Deadly explosion in Kabul kills 20 – media
Multiple casualties have been reported, with the blast allegedly targeting the Taliban's foreign ministry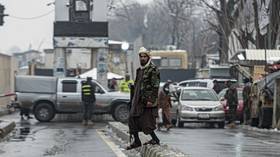 A blast in the Afghan capital of Kabul killed at least 20 people on Wednesday, a Taliban official said. The explosion apparently took place outside the Taliban government's foreign ministry building, with photos from the scene purportedly showing the street littered with debris and corpses.
A Kabul police spokesman confirmed to Ariana News that the explosion happened outside the foreign ministry and "caused casualties." The Afghan news agency shared a photo of the apparent aftermath of the attack, in which motionless bodies could be seen strewn on the road outside the fortified walls of the ministry.
BREAKING: #explosion in #Kabul cityResidents of Kabul have reported hearing a loud explosion the city center at about 3:40 pm.Sources say that the explosion occurred near the Ministry of Foreign Affairs, but officials have not yet provided details.Image: Social media pic.twitter.com/Beysbgf6RF

— Ariana News (@ArianaNews_) January 11, 2023
An official at the Taliban information ministry told Reuters that a suicide bomber attempted to enter the foreign ministry compound, but failed, and detonated himself outside. The official said that at least 20 people were killed and several others injured.
Reports on social media suggest that Taliban officials may have been meeting with a Chinese delegation at the time of the blast. While those reports are unconfirmed, Taliban and Chinese diplomats met in Kabul last week to sign an oil extraction deal.
The security situation in Kabul has remained precarious since the Taliban returned to power following the withdrawal of the US military in 2021. A deadly explosion took place outside a military airport in the city at the beginning of the month, while a bombing and shooting attack on a hotel in December killed five Chinese nationals and several Afghan military and police personnel.
ISIS-K, a regional offshoot of the Islamic State terror group, claimed responsibility for both assaults, as well as a suicide attack on the Russian embassy in Kabul in September, in which two embassy staff were killed.
Russian Foreign Ministry spokeswoman Maria Zakharova expressed her condolences over those lost in the "terrorist act" on Wednesday.
You can share this story on social media: