Taliban signs oil deal with Chinese firm – Bloomberg
It is the first major international energy contract for the current Afghan rulers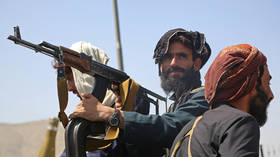 The Taliban government of Afghanistan has signed an oil extraction deal with a Chinese company, Bloomberg reported on Friday.
The contract with Xinjiang Central Asia Petroleum and Gas Company (CAPEIC) was signed in Kabul in the presence of the Taliban's deputy prime minister for economic affairs, Mullah Abdul Ghani Baradar, and the Chinese ambassador to Afghanistan, Wang Yu, the outlet said, citing a statement from the Taliban government.
The 25-year oil extraction agreement would see CAPEIC drilling for oil in the Amu Darya basin. It is the Taliban's first major international energy extraction deal since the group took control of the country in 2021.
"In terms of natural resources, Afghanistan is a wealthy nation. In addition to other minerals, oil is the wealth of the Afghan people on which the economy of the country can rely," Bloomberg quoted Baradar as saying.
The Chinese company will invest up to $150 million a year, which will increase to $540 million in three years, and will give jobs to 3,000 Afghans, the outlet added.
Afghanistan is estimated to have more than $1 trillion worth of natural resources such as natural gas, oil, copper, and rare earths, which are largely untapped due to decades of turmoil. After the Taliban came to power in 2021, the US froze more than $7 billion of its foreign currency reserves, leaving the country severely short of cash. China, which shares a 76km border with Afghanistan, said at the time that it was ready to deepen "friendly and cooperative" relations with Afghanistan.
The Taliban has not yet been recognized as Afghanistan's legitimate government by any country.
For more stories on economy & finance visit RT's business section
You can share this story on social media: