Did Brazil's Bolsonaro choose the wrong country for a political vacation?
The right-wing former president left for the US as his left-wing successor was about to be sworn in, but will he be welcome?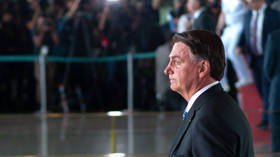 Just as the US was preparing for the second anniversary of its January 6 insurrection, ex-Brazilian president Jair Bolsonaro went to Florida following election fallout in his own country.
Of all the places in the world Jair Bolsonaro could have fled to following his tumultuous defeat in a run-off election against his left-wing opponent, Luiz Inacio Lula da Silva, the United States may have been the least expected. After all, here is a country that most wanted men – think Julian Assange and Edward Snowden – escape from, not to. Meanwhile, memories of its own so-called 'insurrection' are still fresh in the minds of many Americans, some of whom are now holding the slippery reins of power.
On January 6, 2021, following the defeat of then-US President Donald Trump in the 2020 presidential election, a throng of his supporters descended upon the Capitol Building in Washington, DC in the belief that the election had been "stolen." A similar script played out this week in Brasilia, the Brazilian capital, as Bolsonaro supporters ransacked Congress and the Supreme Court, and surrounded the presidential palace in yet another chink in the armor of computer-controlled elections.
The violence, which the former right-wing president formally condemned, forced Lula to call for a state of emergency in the capital until January 31. By comparison, although Trump quickly committed himself to an orderly transition of power, Bolsonaro didn't stick around to hand over the ceremonial presidential sash to Lula da Silva at the inauguration, a bold decision that the new Brazilian leader will not soon forget or forgive.
Many of Brasília's streets sealed off tonight after an extraordinary day of political violence that will go down in the very worst pages of Brazilian history pic.twitter.com/F2Cj079w4h

— Tom Phillips (@tomphillipsin) January 9, 2023
Rather than stepping aside, the former Brazilian incumbent fled to the Republican stronghold of Florida, which was certainly no accident considering that the Sunshine State is home to both Donald Trump and Florida Governor Ron DeSantis. This may prove invaluable should Lula make an extradition request for Bolsonaro. It would probably come as no surprise that the Democrats, a party that never misses a chance to engage in political theater, are already doing exactly that.
"Bolsonaro was an authoritarian leader," Joaquin Castro, a Democratic lawmaker from Texas, told CNN anchor Jim Acosta, adding that the far-right president "basically used the [Donald] Trump playbook to inspire domestic terrorists to try to take over the government.
"Right now he is in Florida, actually very close to Donald Trump, he should be extradited to Brazil," continued Castro, who is also a member of the House foreign affairs committee.
Nearly 2 years to the day the US Capitol was attacked by fascists, we see fascist movements abroad attempt to do the same in Brazil.We must stand in solidarity with @LulaOficial's democratically elected government. 🇧🇷The US must cease granting refuge to Bolsonaro in Florida. https://t.co/rzsZl9jwZY

— Alexandria Ocasio-Cortez (@AOC) January 8, 2023
In the short term, Bolsonaro's American rendezvous shields him from any immediate legal tangles in Brazil, where he is under investigation in at least four criminal inquiries. But it goes without saying that da Silva, who was in prison during Bolsonaro's 2019 inauguration on graft convictions that were later dismissed, would like nothing more than to exact some poetic justice on his ideological nemesis. That much was obvious in a thinly veiled threat Lula delivered to his predecessor.
"We do not carry any spirit of revenge against those who tried to subjugate the nation to their personal and ideological designs, but we will guarantee the rule of law," da Silva said, without mentioning Bolsonaro by name. "Those who erred will answer for their errors."
Da Silva then cranked up the threats another notch by accusing the former administration of committing "genocide" by failing to enact appropriate measures to fight the Covid-19 virus that killed almost 700,000 Brazilians.
"The responsibilities for this genocide must be investigated and must not go unpunished," he said.
It's just a hunch, but on the basis of those words alone it seems rather unlikely that Jair Bolsonaro will be boarding a plane back to Brazil anytime soon, unless he is compelled to do so by the authority of the US government at Lula's express request.
Would the Biden administration have anything to gain by granting an extradition request for Bolsonaro should one be requested? The answer is undoubtedly yes, as the Democrats seek for their very political survival the spread of their message – whether it is climate change, transgender ideology or open borders – across the planet. Having Brazil, the world's seventh most populated country, on board this global juggernaut would certainly give liberals worldwide some extra punching power that they couldn't count on with Brazil under Bolsonaro's more nationalistic rule. The situation facing the liberals is not unlike the one facing power-hungry NATO, which is constantly in search of new allies (and membership fees) through ever-new crises lest its very purpose for existing become redundant.
Although Joe Biden and Lula da Silva could easily find mutual interests without the need to uproot Bolsonaro from Florida, the chance of bringing down a friend of Donald Trump, who is already being blamed through his minions for Brazil's Congress attack, may simply prove too tempting for both sides. Whatever the case may be, Brazil got off to a hot start in 2023, a trend that will not be ending anytime soon.
The statements, views and opinions expressed in this column are solely those of the author and do not necessarily represent those of RT.
You can share this story on social media: