Bolsonaro responds to Brazil riot charges
The former president said "peaceful demonstrations" are "part of democracy"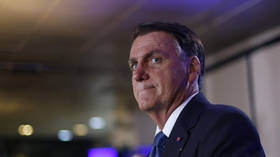 Former Brazilian leader Jair Bolsonaro has denied any responsibility for the unrest that unfolded in the capital Brasilia on Sunday, after President Luiz Inacio Lula da Silva accused his right-wing predecessor of filling the heads of his supporters with extremism.
"Peaceful demonstrations, in the form of the law, are part of democracy. However, depredations and invasions of public buildings as occurred today, as well as those practiced by the left in 2013 and 2017, escape the rule," Bolsonaro tweeted on Sunday evening, after authorities regained control of the government buildings seized by rioters earlier in the day.
"I repudiate the accusations, without evidence, attributed to me by the current head of the executive of Brazil," Bolsonaro added, without mentioning Lula by name. The former leader left Brazil several days before the traditional swearing-in ceremony on January 1 rather than legitimize the leftist's win by attending.
"This genocidist... is encouraging this via social media from Miami," Lula claimed in a televised address earlier on Sunday, blaming what he described as the day's "unprecedented" violence on his predecessor. He vowed to make those responsible for the chaos "pay with the force of the law," while pledging to get to the bottom of "who are the financiers" of the riot.
On Sunday, a massive crowd of Bolsonaro's supporters marched through the capital in yet another protest, reiterating claims that Brazil's electronic voting system was open to fraud and other allegations of voting irregularities. After reaching the Three Powers Plaza, where all three branches of the government are located, swarms of protesters rushed through barricades and overran the Congress, the Supreme Court and the presidential Planalto Palace.
As the crowds wreaked havoc inside, authorities struggled to contain the unrest. The president, who was in Sao Paulo at the time, was forced to declare a state of emergency in the Federal District of Brasilia, appointing justice minister Ricardo Garcia Capelli to lead the "federal intervention."
By Sunday evening, after hours of clashes and hundreds of arrests, riot police managed to regain control of the government buildings using tear-gas and water cannons. Police announced that at least 300 people were detained, as the Justice Minister warned that the arrests would continue throughout the night, as authorities are trying to identify everyone involved in what he dubbed an act of "terrorism" and an attempted "coup."
You can share this story on social media: