Lula orders 'federal intervention' against rioters
The newly inaugurated Brazilian president has declared a state of emergency after the former leader's supporters overran government buildings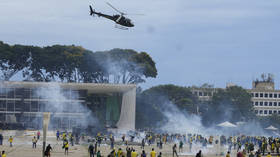 Brazilian President Luiz Inacio Lula da Silva has declared a state of emergency in the Federal District of Brasilia after thousands of supporters of his right-wing predecessor, Jair Bolsonaro, overran Congress, the Supreme Court and the presidential Planalto Palace.
The leftist leader, inaugurated just last week, gave the order on Sunday, appointing justice minister Ricardo Garcia Capelli to lead the 'federal intervention'. Lula's order gives Capelli the power to ask both civil and military bodies for "the necessary means to achieve the object of the intervention."
After hours of clashes, riot police using tear gas and water cannons managed to regain control of the government buildings by Sunday evening. Authorities announced that at least 300 people were detained, as the justice minister warned that the arrests would continue throughout the night, as investigators try to identify everyone involved in what he dubbed an act of "terrorism" and an attempted "coup."
However, the emergcy order remains in effect until the end of the month. The scope of the order is limited to Brasilia's Federal District, and its stated aim is to "end the serious compromising of public order in the State in the Federal District, marked by acts of violence and invasion of public buildings."
To achieve that goal, Capelli may call upon "the financial, technological, structural, and human resources of the Federal District" – including, but not limited to, the military and police – as needed.
Promising to make those responsible for the chaos "pay with the force of the law" in a televised address, Lula pledged to get to the bottom of "who are the financiers" of the swarm of protesters – most outfitted in matching attire with the colors of the Brazilian flag – who rushed through a barricade and into the government buildings.
He denounced the demonstrators as "vandals and fascists," accusing Bolsonaro of filling their heads with extremism. The former leader's supporters have been staging chaotic demonstrations since he lost a close election to his leftist rival in October, blocking roads, setting vehicles on fire, and at one point even surrounding a military facility to try to convince the soldiers inside to rise up and restore Bolsonaro.
Bolsonaro left Brazil several days before the traditional handoff ceremony installing Lula in the presidency rather than appear to legitimize the leftist's win by showing up, maintaining that his defeat had been unfair even as he condemned the violent protests that had resulted. Lula blamed what he described as the day's "unprecedented" violence on his nemesis, declaring "this is also the responsibilities of him and of the parties that belong to him."
You can share this story on social media: