Poland to create new eastern infantry division – defense minister
The formation is needed to deter Russia, Mariusz Blaszczak claims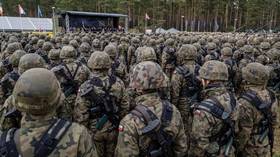 The Polish military will create a new infantry division equipped with state-of-the-art hardware in the eastern part of the country, Poland's Defense Minister Mariusz Blaszczak has said.
Warsaw intends to put the new formation together "as soon as possible," Blaszczak pledged on Monday.

The division's main area of operations will be the Podlasie Province, bordering fellow NATO member Lithuania and also Belarus, which is a close ally of Russia.
According to the minister, the division will comprise four brigades, separated into four battalions. A division is a military formation, consisting of between 6,000 to 25,000 troops.
The new forces will be armed with US-made Abrams and South Korean K-2 tanks, locally-made Krab and Korean K-9 howitzers, as well as reconnaissance drones, he said.
In his interview on Tuesday, Blaszczak expanded on the reasons for the creation of a new armed formation in that specific area.
"We know who threatens us and where… For Poland, the main threat is Russia and its imperial tendencies. That is why more troops are needed in the east of the country and that's why a new division is being set up," he told the I.pl news portal.
Poland previously concentrated most of its forces west of the Vistula River, which separates the country roughly in half, running northward towards the Baltic Sea. But Warsaw's new strategy is "defense of every meter of our land," the minister insisted.
Since the launch of Russia's military operation in Ukraine, Poland has become a country "in direct contact with the war" as Warsaw has been helping Kiev on military, political and humanitarian levels, he pointed out.
By providing this assistance, "we take on a lot of responsibility, but we do it consciously because the further we manage to push Russia away and the greater the losses inflicted on it – the better it is for us and for the future of the democratic world," Blaszczak claimed. "We must remember this and stand by Ukraine's side till the end," he added.
Warsaw has been one of Kiev's main backers in the EU amid the conflict between Russia and Ukraine, which has been underway since last February. Poland has reportedly donated half of its tanks as well as other weapons to Vladimir Zelensky's government, with Moscow also saying Polish mercenaries have been taking part in the hostilities. It has also accepted around 1.4 million Ukrainian refugees, while calling on Brussels to ramp up its anti-Russia sanctions.
The secretary of the Belarusian national security council, Aleksandr Volfovich, described the planned creation of a new division by Warsaw as another sign of "aggressive policy and unneighborly attitude by Poland" towards Belarus, Russia and other members of the Collective Security Treaty Organization (CSTO).
"Unfortunately, Poland and the Baltic states are working towards militarization," putting the emphasis on fielding offensive rather than defensive weapons, Volfovich said, as cited by state news agency Belta.
"How can this be assessed? Only as a precursor to some kind of aggression. Both reconnaissance flights and the number of exercises being conducted [by Poland and NATO] – all this can't contribute to peace and security," he argued.
According to Volfovich, the joint Russian-Belarusian military contingent, which was deployed in Belarus last year, is only pursuing defensive purposes, and is aimed at deterring NATO.
You can share this story on social media: