'Historic' UK space mission ends in fiasco
An "anomaly" prevented the Virgin Orbit's rocket from delivering satellites to space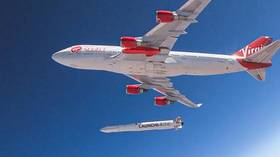 The first-ever orbital launch attempt from UK soil made by the Virgin Orbit company ended in failure on Monday due to a technical issue despite some initial progress. The exact reason for the malfunction was not immediately clear.
The company's modified Boeing 747 jet, dubbed 'Cosmic Girl', successfully took off from Newquay Airport in the English county of Cornwall, later releasing a rocket carrying nine satellites which were supposed to be positioned at an altitude of about 500km.
As the flight proceeded, Virgin Orbit tweeted that the rocket named LauncherOne and its payload had successfully reached orbit. However, later it turned out that this was not what had taken place.
According to a statement released by Virgin Orbit on Tuesday, the initial stages of the "historic" endeavor went off without any issues. The rocket went hypersonic and reached space, undergoing a successful stage separation. "However, at some point during the firing of the rocket's second stage engine… the system experienced an anomaly, ending the mission prematurely," it said.
The company also said it had removed the tweet about the rocket reaching orbit. Meanwhile, the 'Cosmic Girl' aircraft and its crew safely returned to the ground after the launch.
Matt Archer, the director of commercial spaceflight at the UK Space Agency, said he was disappointed by the failure, adding that the authorities and the company would investigate the cause of the technical anomaly.
"We don't know what caused the anomaly but we achieved a launch," he said. "Space is hard. We knew that this had a risk of failure," he added.
He also confirmed that both the rocket and satellites had been lost, reassuring the public that the object's trajectory suggests that it does not pose any danger to the people below.
The mission was supposed to be the first launch of commercial satellites from Western Europe for Virgin Orbit, which is a subsidiary of Richard Branson's Virgin Group. In 2020, the company's first launch using LauncherOne ended up in failure, but later Virgin Orbit conducted several successful missions from US soil, delivering satellites to Earth's orbit.
You can share this story on social media: