Trump taunts Biden that FBI should raid White House
The former president reacted to news that classified materials were found at a Biden-linked think tank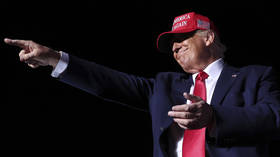 Former US president Donald Trump, whose home was raided by the FBI last year over a stash of classified documents, has urged the agency to go after his successor, Joe Biden. Trump cited news that classified documents had been found at a Biden-linked think tank.
"When is the FBI going to raid the many homes of Joe Biden, perhaps even the White House? These documents were definitely not declassified," Trump said in a post on his Truth Social platform, linking to a CBS News article that broke the story.
According to the outlet, the US Department of Justice is conducting a preliminary investigation into how "roughly 10" classified documents originating from the office of Joe Biden during his time as US vice president ended up in a box at the Penn Biden Center for Diplomacy and Global Engagement. The think tank is based in Washington, DC and named after the incumbent president. The documents were reportedly found by Biden's attorneys in early November, with the National Archives taking possession of them shortly afterwards.
The FBI raided Trump's Mar-a-Lago club and residence in August in search of classified materials, which he refused to hand over to the National Archives after leaving office. Some 300 documents, some of them nuclear-related, were reportedly seized by the agency.
President Biden called Trump's handling of secret documents "totally irresponsible".
Trump is currently under investigation by recently appointed special counsel Jack Smith for allegedly violating the Presidential Records Act. He has denied any wrongdoing and claimed that the FBI and the DoJ were involved in a "witch hunt" against him.
Donald Trump Jr. reacted to the latest news on Twitter, predicting that "nothing will happen" after the discovery of Biden's classified files, despite all the criticism previously directed at his father.
CBS News noted that mishandling classified materials does not necessarily lead to criminal prosecution, citing the case of former Secretary of State Hillary Clinton, who kept secret documents on her private email server even after leaving office.
You can share this story on social media: