US mulls new armor delivery to Ukraine – Politico
Stryker fighting vehicles are reportedly meant to help Ukraine repel Russia's anticipated spring offensive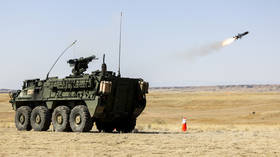 The US Department of Defense is contemplating the delivery of Stryker armored fighting vehicles to Ukraine as a part of a new security assistance package, Politico reported on Monday, citing sources.
According to an unnamed Pentagon official interviewed by the outlet, the US has not yet announced a final decision on the matter, as the vehicles could be included in one of the next batches of military aid. Washington could also officially announce the next package, with or without Strykers, late next week, the Politico source said.
The Strykers are expected to help Ukraine fight off an anticipated Russian spring offensive, the report says. The eight-wheeled armored vehicles offer high off-road mobility and strike a balance between a tank and an armored personnel carrier.
"Ukrainians need armored personnel carriers and short of other countries providing it, is what we have in inventory," a Pentagon official told Politico. "Not as good as a Bradley for a tank fight, but good to protect infantry and get up close to a fight."
Stryker vehicles, which come in different variants and are built for the US Army by General Dynamics Land Systems, have been in service since 2002 and have seen action in Iraq. Each unit usually includes a .50 caliber machine gun.
The reported Stryker delivery plan comes after last week's announcement from the US of a new aid package for Ukraine, which includes 50 Bradley infantry fighting vehicles, touted by the Pentagon as "tank killers." Germany and France have also stepped up lethal aid to Ukraine, with Paris agreeing to send several aging AMX-10 armored fighting vehicles and Berlin announcing future shipments of 40 similar Marder vehicles.
Moscow has repeatedly warned the West that "pumping" Ukraine with weapons will only prolong the conflict. On Thursday, commenting on Washington's decision to support Kiev with Bradleys, Anatoly Antonov, the Russian ambassador to the US, accused the country of pursuing a "dangerous course."
"Any talk about a 'defensive nature' of weapons supplied to Ukraine has long become absurd," he noted, adding that Western arms shipments only encourage Ukrainians to kill civilians in Russia's Donbass republics as well as in Zaporozhye and Kherson Regions.
You can share this story on social media: