China won't allow 'geopolitical games' in Asia-Pacific – diplomat
Beijing is committed to fighting imperialism and will defend its national dignity, a Foreign Ministry spokesperson says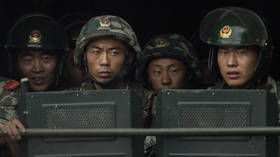 Beijing will not let the Asia-Pacific region turn into a hotspot for geopolitical conflict, and will defend its own sovereignty and integrity, a Chinese Foreign Ministry spokesperson declared on Monday.
Speaking at a press briefing, Wang Wenbin responded to the news of a 10-member German delegation arriving on the self-governing island of Taiwan. He stressed that "the Taiwan question is at the very core of China's interests" and urged Berlin to respect the One China Principle, acknowledging that Taiwan is an inalienable part of the nation.
Beijing considers any treatment of the island as a sovereign nation, including formal visits by foreign officials, as a direct affront to its sovereignty.
Wang said the "root cause" of the historic tensions between Taiwan and China were "the law of the jungle, hegemonism, colonialism and militarism" which had inflicted "deep suffering" on China for many years.
"The Chinese people have been committed to fighting imperialism, hegemonism and colonialism and upholding our sovereignty, territorial integrity and national dignity. We will never allow any forces to turn the Asia-Pacific into an arena of geopolitical games once again to maintain their dominance," the diplomat warned.
Taiwan has never formally declared independence from Beijing, but has been self-governed since the end of the Chinese Civil War in 1949, when nationalists fighting under the Kuomintang were defeated by communist forces and fled to the island.
While relations between Beijing and Taipei have always been strained, tensions boiled over following the visit of US House Speaker Nancy Pelosi to the island in August.
China has repeatedly warned that it will use whatever means necessary to establish full control over the island, but has insisted it will search for a diplomatic solution.
On Monday, Beijing announced a new military exercise near Taiwan in response to the visits by German and Lithuanian lawmakers to the island. The drill will reportedly include both sea and aerospace maneuvers and will focus on land strikes and amphibious assault action, according to a Chinese military spokesperson.
You can share this story on social media: