Asian country looks to buy Israeli drone-tracking system – media
The proposed move follows a failure by South Korea's military to bring down North Korean UAVs that violated its airspace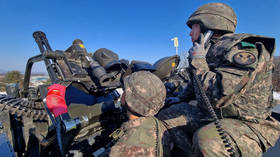 South Korea's military, which is under pressure to shore up its air defenses after failing to intercept five North Korean drones that flew around for hours in Seoul's airspace, is reportedly considering the purchase of an Israeli system that detects unmanned aerial vehicles (UAVs).
The South Korean defense ministry may buy an "electric eye" system, also known as Sky Spotter, on an accelerated basis, Yonhap News reported on Sunday, citing an unidentified military official. Sky Spotter is built by Israeli defense contractor Rafael Advanced Defense Systems and is designed to provide early detection of drones, balloons and other flying objects.
A decision on whether to formally request approval for the acquisition will be made in the coming weeks, following a study of how effective the system would be in countering North Korean drone threats, Yonhap said. South Korean defense analysts are trying to determine how best to plug any gaps in its current battery of radars and thermal observation devices.
The review follows a December 26 incident in which five North Korean drones flew above various South Korean cities for nearly five hours. One of the UAVs even flew around in the no-fly zones near the office and residence of South Korean President Yoon Suk-yeol in central Seoul. The South Korean military admitted the breach on Thursday, after previously denying that a UAV had entered a no-fly zone.
Seoul's forces tried to bring down the drones, at one point firing 100 machine-gun rounds from a helicopter. South Korea also scrambled jets after the UAVs were belatedly detected. One of the aircraft, a KA-1 light attack plane, crashed during takeoff in Gangwon province. All of the drones reportedly made it back to North Korea undamaged.
Yoon "berated" Defense Minister Lee Jong-sup over the incident, according to media reports. He pledged to strengthen Seoul's surveillance and reconnaissance capabilities by spending $441 million on air defenses over the next five years.
The president will decide whether to punish his military for its failure to bring down the UAVs after the defense ministry completes a review of the botched operation, a spokesman for Yoon told reporters on Friday.
You can share this story on social media: