Confusion over US-South Korea joint nuclear drills claims
Conflicting claims about possible nuclear exercises come as Seoul urges stronger deterrence against Pyongyang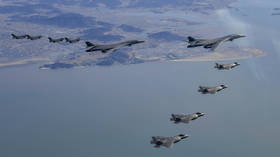 US President Joe Biden has denied that the Pentagon is in talks with Seoul about joint nuclear exercises, raising a number of questions after his South Korean counterpart announced that such discussions were already underway.
Asked on Monday whether he is "discussing joint nuclear exercises with South Korea right now," Biden simply said "No," declining to elaborate further for reporters. The White House National Security Council later refused to comment when approached by Bloomberg.
Despite Biden's curt denial, South Korean President Yoon Suk-yeol recently told a local newspaper that the two countries are "discussing ways to operate the US nuclear forces under the concept of 'Joint Planning-Joint Exercise' in order to respond to North Korea's nuclear weapons and missiles," immediately stoking speculation about two-way nuclear drills.
In the same interview, Yoon also criticized the long standing "extended deterrence" policy between Seoul and Washington which places South Korea under the protection of the US "nuclear umbrella," arguing it is no longer enough to reassure citizens, given military advances by the DPRK. He said that "while the nuclear weapons belong to the US, intel sharing, planning and training should be done jointly," adding that American officials have been "quite positive" about the idea.
However, while Yoon appeared to refer to joint military drills involving nuclear forces and spoke at length about deterrence, South Korean government spokesperson Kim Eun-hye later clarified that the president was not talking about "nuclear war exercises," saying this explained Biden's comment earlier on Monday.
"Today's remarks by US President Joe Biden were cut short by a Reuters reporter and asked 'whether we are [discussing] nuclear war exercises,' so of course we have no choice but to answer 'No,'" Kim said.
Instead, the spokesperson said US and South Korean officials are "discussing ways to share information on the operation of US-owned nuclear power assets, joint planning and joint action plans to respond to North Korea's nuclear weapons." She did not explain what that would entail, however, leaving it unclear how the two sides might alter their current posture.
Yoon's remarks come in the wake of a contentious year on the Korean Peninsula, which saw a record number of weapons tests by Pyongyang and a flurry of joint live-fire military drills by Seoul and its allies, namely Japan and the United States. South Korean officials have recently stressed the need to strengthen the country's air defenses and surveillance capabilities after several North Korean drones penetrated its airspace in late December, further heightening tensions into the new year.
You can share this story on social media: