German police detain alleged chemical attack plotter
An Iranian national has been apprehended after authorities received a tip-off from the US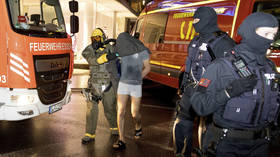 A 32-year-old Iranian national has been detained in Germany over an alleged terrorist plot, the country's security officials announced Sunday. Another person, reported to be the suspect's brother, has also been held amid the investigation.
The two were detained overnight in the northwestern German town of Castrop-Rauxel, near Dusseldorf, officials said.
The man "is suspected of having prepared a serious act of violence endangering the state by allegedly procuring cyanide and ricin to commit an Islamist-motivated attack," the Dusseldorf public prosecutor's office and police said in a joint statement.
German Interior Minister Nancy Faeser stated that her country "continues to be a direct target of Islamist terrorist organizations," adding that "Islamist-motivated lone perpetrators are another considerable danger."
Forensic specialists wearing hazmat suits were pictured by German media carrying evidence out of the suspect's home and examining it afterwards at the town's fire department. However, no actual toxins have been found, a spokesperson for the Dusseldorf public prosecutor's office told Reuters. It was not immediately known how far the suspect had advanced in his plans and whether he'd picked an exact target for the potential attack.
The detentions and searches were carried out after authorities received "a serious tip that led police to intervene the same night," Interior Minister for North Rhine-Westphalia state Herbert Reul said, as quoted by the DPA news agency.
"The authorities are now investigating at full speed," Reul added.
Prosecutors in Dusseldorf confirmed the tip came from the US but didn't elaborate, while tabloid newspaper Bild reported the German authorities had been notified of the terrorist plot by the Federal Bureau of Investigation (FBI).
You can share this story on social media: