Hunt underway for Nazi treasure
German soldiers are believed to have hidden millions of euros worth of loot near a Dutch village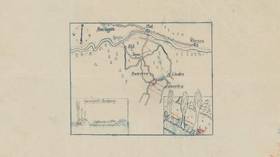 Amateur sleuths in the Netherlands are combing the countryside near the village of Ommeren after the Dutch National Archive released a map pointing to a multimillion-euro stash of diamonds, rubies, gold, and silver. Local authorities, however, have warned that the rules of 'finders keepers' don't apply.
The map, which went on display in The Hague on Tuesday, features a red cross over a spot near the village, and is described by the archive as "a real treasure map." Detailed drawings on the map show that the stash is buried at the base of a berm beside a field, three trees adjacent from what appears to be a gravestone.
Archivist Annet Waalkens told a local newspaper that the treasure was buried in August 1944, after an explosion at a bank in the nearby city of Arnhem. A group of German soldiers raided the bank after the blast, filling four ammunition boxes with the loot, before burying it at the site.
"It's worth several millions," Waalkens said, adding that the government has tried to locate it on multiple occasions since the end of the war. A German soldier who claimed to have witnessed the burial was brought in to assist the search in 1947, and although he drew up the map, no treasure was ever found.
Fighting was raging around Ommeren in 1944, with British forces driven back from crossing the Rhine at Arnhem a month after the stash was supposedly buried.
"It is possible that the treasure was buried and that it was removed again two days later," historian Joost Rosendaal told the local paper. "I wouldn't be surprised at all if the treasure disappeared."
Despite Rosendaal's skepticism, one local treasure hunter told Reuters that there were "groups of people with metal detectors everywhere" on Friday.
These would-be gold diggers are breaking the law, however. The Municipality of Buren, where Ommeren is situated, forbids the use of metal detectors without a permit. Additionally, the Netherland's 2016 Heritage Act forbids amateur archaeological excavations and requires any artifacts found to be reported to local authorities.
The municipality also cautioned that due to the intense fighting that took place in the area in 1944, unexploded bombs, mines or grenades could lurk beneath the ground. "We therefore advise against searching for the Nazi treasure," it stated.
You can share this story on social media: