Republican super-hawk to run for US president
Former Trump national security advisor John Bolton plans to challenge him for the GOP nomination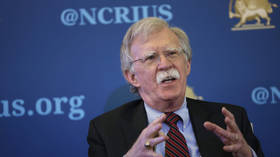 Former US national security advisor John Bolton has said he plans to run for president in 2024, revealing in an interview with Good Morning Britain on Friday that he will challenge his former boss Donald Trump for the Republican nomination.
The notoriously belligerent Bolton, who served in the administrations of both Bushes and Ronald Reagan before his brief stint as Trump's national security advisor, told the outlet his campaign will focus on a "much stronger foreign policy."
"I think it's important that it's understood not just in Moscow, but it's understood in places like Beijing, that unprovoked aggression against your neighbors is not something the United States and its allies will tolerate," he said.
Bolton insisted his would not be a "vanity" candidacy, arguing that support for Trump's policies was in "terminal decline" but that Republicans were afraid to go public with their dissatisfaction.
"I think the voters, the Republican voters, people who choose the Republican nominee, nearly 95% disagree that Trump is more important than the Constitution," Bolton said. He was apparently referring to the former president's comments last month that what he called the "massive election fraud" revealed in the Twitter Files "allows for the termination of all rules, regulations and articles, even those found in the Constitution." The files revealed that government agencies leaned on Big Tech platforms to suppress the Hunter Biden laptop story ahead of the 2020 election.
Bolton had hinted last month that he would run in 2024 if other candidates didn't vocally condemn Trump for this supposed attempt to override the Constitution. Trump has dismissed his former cabinet member as a "disgruntled boring fool who only wanted to go to war."
Bolton is notorious for calling for overthrowing foreign governments, from Iran, whose exiled opposition group MEK has paid him to speak at numerous events, to Russia, where he recently suggested the US "carefully assist" dissident groups to "pursue regime change," and to Venezuela, where he admitted being involved in the failed 2019 attempt to install opposition figure Juan Guaido as president.
While Trump was the first to announce his bid for the Republican nomination in 2024, polls show support for the aging MAGA figurehead declining, and Florida Governor Ron DeSantis as well as former Secretary of State Mike Pompeo are widely expected to challenge him.
You can share this story on social media: