CNN hires never-Trumper
The former Republican congressman from Illinois will be a senior political commentator on the network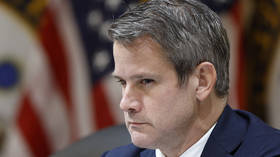 Former Republican congressman Adam Kinzinger has joined CNN as a senior political commentator, the network confirmed on Wednesday, less than a week after his official departure from the House. He made his first appearance as a contributor on Erin Burnett OutFront, declaring he was "excited" to join the staff.
Kinzinger opted not to seek another term representing Illinois in the House in 2021 as his theatrical stint as one of two Republicans on the January 6 committee tasked with investigating former President Donald Trump over the Capitol riot, along with his support for impeachment, had alienated many within his own party. The other Republican, fellow 'never-Trumper' Liz Cheney (Wyoming), did not win reelection either.
The six-term representative was a frequent guest on CNN during the January 6 hearings, a fact that led many on social media to mock his new job on Wednesday. Kinzinger "was basically giving CNN his resume for the past year," Axios reporter Tim Baysinger tweeted, while the Washington Beacon's Chuck Ross referred to his "two-year apprenticeship" at the cable outlet.
He joins CNN as the network, under new management since May, struggles to reinvent itself from stalwart of the anti-Trump 'resistance' into a more moderate outlet. CEO Chris Licht has attempted to reassure viewers that while he wants to soften the network's image, this does not mean inviting in views from the conservative Right.
Indeed, while Kinzinger joins a handful of other Republicans at CNN, all – including Ana Navarro and fellow former congressman Charlie Dent – are fellow Never Trumpers.
Since joining the January 6 committee, which recommended charges against Trump in its final report, he has become a critic not just of the former president but of the party leadership in general, recently blaming erstwhile House minority leader Kevin McCarthy (R-CA) for the "crazy elements" in Congress.
While the congressman hinted at a 2024 presidential run when he revealed he would not be standing for reelection in 2021, telling CNN he did not want to "rule anything out," he more recently rejected the idea even while acknowledging it would be "fun" to run against Trump.
You can share this story on social media: