Taiwan cracks alleged Chinese spy ring – media
A former Air Force captain is suspected of having recruited at least six military officers to gather intelligence, according to CNA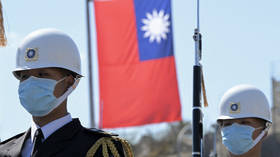 Taiwanese authorities have detained four military officers suspected of spying for Beijing, local media reported on Wednesday. Another three officers involved in the case were reportedly released on bail.
According to the Taiwanese Central News Agency (CNA), law enforcement took a retired Air Force captain and three active duty officers into custody. All seven suspects had been brought to the prosecutor's office for questioning in the southern city of Kaohsiung on Tuesday.
Following the interrogation, four of the seven were detained, including the captain, identified as Liu, a commander surnamed Sun, and two lieutenant commanders with surnames Liu and Kung respectively. Three other officers were released after they paid bail to the tune of 100,000 to 200,000 new Taiwan dollars ($3,260 to $6,500).
The prosecution alleges that the retired captain began spying for Beijing in 2013 after retiring, using his personal connections to set up a spy ring. In the following years, he is believed to have recruited at least six officers, receiving payments to the amount of between $6,500 and $23,000 for his services via a shell company.
Commenting on the report, Taiwan's Ministry of Defense said that the ring was exposed by tip-offs from members of the military. The ministry also noted that the "whole case has entered the judicial process," but declined to delve into specifics.
In recent years, Taipei and Beijing have repeatedly traded spy accusations, with Taiwan's Defense Ministry describing clandestine Chinese efforts as a "serious threat." One of the biggest espionage cases took place in 2021, when Taipei authorities investigated former Vice-Defense Minister Chang Che-ping for his alleged links to a Chinese agent. He later became a witness in his own case, which led to the indictments of two high-ranking military officers.
Meanwhile, in 2020, China claimed that it had detained several people spying for Taiwan, alleging that it had solved more than 100 cases as part of a counterintelligence operation.
Beijing considers Taiwan to be sovereign Chinese territory under its 'One China' policy. Since 1949, the island has been ruled by nationalists who fled the mainland with US help after losing the Chinese Civil War to communists.
You can share this story on social media: