Iranian official shot on Soleimani anniversary – local media
A Basij security officer was gunned down outside his house in Tehran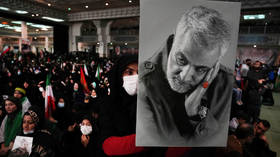 Qasim Fathullahi, a local Basij commander with the Mohammad Rasulullah Guards of Greater Tehran, was shot four times outside his house on Tuesday, according to Iranian media. He later succumbed to his injuries. Fathullahi's shooting, which was described as a terrorist attack, comes on the third anniversary of the US drone assassination of Iranian General Qassem Soleimani.
Fathullahi was a commander of the security base at the Mokhtari neighborhood in southern Tehran, according to the Tasnim news agency. His unit is a former Islamic Revolutionary Guard Corps (IRGC) military formation that was merged with the Basij militia in 2008 and put in charge of security in the Iranian capital.
No group has taken responsibility for the shooting yet. The attack on Fathullahi happened in the evening, after a day of commemorations across Iran for the IRGC Quds Force commander Soleimani, killed in Iraq in 2020.
Soleimani was visiting Iraqi militia commander Abu Mahdi al-Muhandis when their vehicle was targeted by a US strike drone outside the Baghdad International Airport. Donald Trump, the US president at the time, took responsibility for the assassination. Tehran retaliated by firing dozens of missiles at bases hosting US military personnel in Iraq.
Large crowds gathered to commemorate Soleimani on Tuesday, both in Tehran and his hometown of Kerman.
"We have not and will not forget the blood of martyr Soleimani," President Ebrahim Raisi told the audience in Tehran on Tuesday. "The Americans must know that revenge for martyr Soleimani's blood is certain, and the murderers and perpetrators will have no easy sleep."
Raisi also praised Soleimani as a "champion of fighting terrorism and global arrogance" who"dragged the US hegemony in the region to defeat."
You can share this story on social media: