Alcohol tax scrapped in Gulf's 'party capital' – retailers
Prior to the move, exorbitant prices had prompted Dubai residents to buy alcohol in bulk outside the city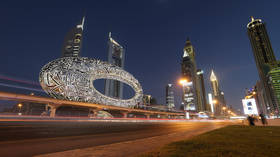 The emirati city of Dubai has ended a 30% tax on alcoholic drinks while making obligatory liquor licenses free to obtain, two major local retailers announced on Sunday. The initiative is apparently aimed at boosting tourism.
In a series of posts on Instagram, Maritime and Mercantile International (MMI), one of the largest alcohol stores in the capital of the Emirate of Dubai, hailed the move as "BIG BIG NEWS." It explained that people "no longer need to make trips across the country to stock up on [their] favorite drinks."
"With the removal of [the] 30% municipality tax and FREE alcohol license, buying your favorite drinks is now easier and cheaper than ever!" MMI wrote.
Any Dubai resident who wishes to drink, transport or store alcohol is legally obliged to have such a license. The document may only be issued to persons aged 21 or older, and used to cost 270 dirham ($73) a year.
Another major alcohol retailer, African + Eastern, confirmed the move. It added, however, that a 5% VAT rate still applies.
The initiative came into force on Sunday, but it is unclear whether it will be permanent. According to a Financial Times report, the new regime will last for a year, with industry executives describing it as a trial period.
In Dubai, known as the Gulf's "party capital," the price of a bottle of beer often exceeds $10, while a bottle of wine may cost $100 or more. The exorbitant prices often prompted city residents to travel to neighboring emirates, where prices are lower.
Speaking to FT, Monica Malik, chief economist at Abu Dhabi Commercial Bank, noted that the move "should further support the tourism and hospitality sectors," adding that it "should also be welcomed by many residents, who are predominantly expatriates."
Almost 90% of the population of the United Arab Emirates, where Dubai is the biggest city, are expatriates. The decision to cut taxes on alcoholic drinks comes after the Gulf country approved a new tourism strategy in November in a bid to boost its competitiveness and attract 100 billion dirham ($27 billion) in additional investment by 2031.
You can share this story on social media: