Meth hazard prompts closure of US library
High levels of the drug were found in restrooms at the public facility in Colorado, local authorities say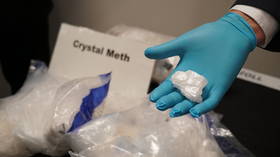 The main public library in Boulder, Colorado has been temporarily closed due to heavy drug contamination caused by an influx of meth-smoking visitors, according to local officials.
The facility was shut down on December 20 after "higher than acceptable methamphetamine levels were found in a restroom air duct," city authorities said in a statement.
The decision to close the library and undertake additional "environmental testing" was prompted by a "recent spike in reports of individuals smoking in public restrooms over the past four weeks," they added. Swab samples were taken from surfaces inside and outside the restrooms.
"The tests showed that residue inside the ducts had higher than acceptable levels of methamphetamine. The ducts blow air and contaminants outside the building, but it is not yet clear what, if any, level of contaminants is on surfaces," the statement read.
The city provided an update on the situation on December 28, revealing that the tests had shown that the drug contamination was "confined largely to public restrooms, with some limited impacts to highly trafficked seating areas."
The affected areas will be subjected to "professional remediation," and the facility is expected to reopen on January 3 at the earliest. However, the library's restrooms may remain out of service after this date, the city warned.
"Consideration is being given to the level of restroom service the building will need in the future and how to ensure that no illegal activity occurs in these private and enclosed spaces. It is not yet clear if, and when, public restrooms will be brought back," it explained.
The meth incident has attracted widespread attention from the media, the authorities noted, pledging to release detailed test results on the levels of drug contamination at the library in the near future.
You can share this story on social media: