TikTok is at least as much an American tool as it is a Chinese influence operation
Revelations of a Beijing-based spying campaign on the video sharing service have served to obfuscate Washington's own insidious efforts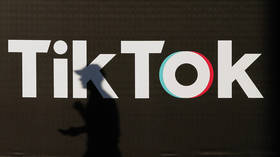 It's been revealed that TikTok spied on multiple journalists at Forbes magazine who were investigating the company, in order to uncover which staffers were leaking insider material. The exposure has been framed as evidence of shady Chinese activity – but TikTok's secret status as a wing of US propaganda power points to a very different story than the mainstream media is telling.
The existence of the covert surveillance campaign at TikTok was confirmed following an internal investigation by ByteDance, TikTok's parent company, which found employees had improperly gained access to IP addresses and user data in an attempt to identify whether journalists had been in the same locales as ByteDance employees.
"The misconduct of certain individuals… was an egregious misuse of their authority to obtain access to user data," a TikTok spokesperson said, commenting on the investigation's findings. "This misbehavior is unacceptable, and not in line with our efforts across TikTok to earn the trust of our users."
Known as Project Raven, the surveillance campaign was launched this summer after BuzzFeed published a story revealing ByteDance employees in China had repeatedly accessed US user data. Based on over 80 hours of leaked audio recordings of internal TikTok meetings, the story speculated on how the Chinese government could gain access to American users' personal data and influence their "commercial, cultural, or political behavior" through TikTok's algorithms.
Project Raven was overseen by ByteDance's Beijing-based Internal Audit and Risk Control department, which is primarily responsible for investigating potential misconduct by current and former ByteDance employees. Employees in that unit vacuumed up data on former BuzzFeed and Financial Times journalists, as well as a "small number of people connected to the reporters" through their TikTok accounts, ByteDance admits.
The internal investigation of Project Raven led to the firing of ByteDance's chief internal auditor, who led the spying effort, while the China-based executive to whom he reported resigned. Two employees in China and the US involved in Project Raven were also fired.
"None of the individuals found to have directly participated in or overseen the misguided plan remain employed at ByteDance," the company claimed in internal emails. "Individuals misused their authority to obtain access to TikTok user data."
Condemnation of the spying operation has been widespread and aggressive. A Forbes spokesperson claimed the effort was "a direct assault on the idea of a free press and its critical role in a functioning democracy." A Federal Communications Commission representative told Forbes, "this should be the final nail in the coffin for the idea that US officials can trust TikTok." Meanwhile, House Intelligence Committee Chair Mark Warner, a noted anti-China hawk, had even more fiery words for the social network:
"This new development reinforces serious concerns the social media platform has permitted engineers and executives in [China] to repeatedly access private data of US users despite repeated claims to lawmakers and users this data was protected. The DoJ has also been promising for over a year they are looking into ways to protect US user data from Bytedance and the CCP – it's time to come forward with that solution or Congress could soon be forced to step in."
A shocking ploy the spying certainly was, but the righteous anger of Forbes, the FCC, and Warner is misplaced, likely by deliberate design. While TikTok is an international outgrowth of China's popular Douyin video-sharing platform, and ByteDance is a Chinese-owned tech giant, the social network in its Western form is a US-dominated entity in every regard.
MintPress News has documented how there is a "pipeline" between NATO and US government agencies, such as the Department of Homeland Security and State Department, and TikTok. Military and intelligence professionals move directly from the former to security and other roles with the social network. In at least one case, a military intelligence officer appears to be employed by the US Army and TikTok simultaneously.
What's more, TikTok is openly weaponized and exploited by Washington for information warfare purposes at home and abroad. Such interest is understandable – in 2021, it became the most-visited website in the entire world, and it has at least 70 million active users in the US alone.
Back in March, the White House convened a Zoom call with 30 top TikTok stars, during which they were briefed on the conflict in Ukraine by National Security Council staffers and the Biden administration's press secretary at the time, Jen Psaki. Topics included US "strategic goals in the region," and how particular matters should be referred to and framed in video clips.
"We recognize this is a critically important avenue in the way the American public is finding out about the latest," White House director of digital strategy Rob Flaherty said at the start of the meeting, "so we wanted to make sure you had the latest information from an authoritative source."
The stoking of concerns in the mainstream about TikTok's access to the personal information of millions of US citizens, and its alleged capacity to manipulate and influence user content, should be understood in the context of the US government, and its national security apparatus and spying agencies, wanting to take an even greater degree of direct control over the social network.
It is surely no coincidence that the exposure of the TikTok spying operation comes at a time when ByteDance is negotiating a national security contract with the Treasury Department's Committee on Foreign Investment in the US. According to a recent report, based on unnamed sources, this deal has been put on hold. If it does go ahead in the end then whatever arises will govern how TikTok handles Americans' personal user data, and already the company has pledged this will all be stored on US soil by tech giant Oracle moving forward.
What's more, access to US user data by TikTok staff will be "limited only to authorized personnel, pursuant to protocols being developed with the US government." This will ensure sensitive personal information of Americans is safe from prying eyes in China – but also grant a huge amount of power to Washington over this data. And US spying agencies' history of abusing and weaponizing such data all but assures the unfettered right to exploit it will be hardwired into those "protocols."
The statements, views and opinions expressed in this column are solely those of the author and do not necessarily represent those of RT.
You can share this story on social media: