South Korean plane crashes while intercepting North Korean drones – media
Both pilots of the KA-1 light aircraft reportedly managed to survive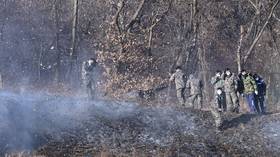 A South Korean KA-1 light aircraft crashed on Monday as it scrambled to intercept North Korean drones that had intruded into South Korean airspace, Seoul's military said, as cited by Yonhap news agency. Both pilots reportedly emerged unscathed.
According to an official cited by Yonhap, the military detected multiple "unidentified objects," suspected to be unmanned aerial vehicles, in the Gyeonggi-do province bordering on North Korea.
Speaking at a briefing, a Joint Chiefs of Staff official said South Korea's military "responded to an unknown track presumed to be a North Korean drone in the Gyeonggi area this morning," denouncing the incident as an "obvious provocation."
The drones crossed the Military Demarcation Line between the two states, flying over the areas of Gimpo, Ganghwa Island and Paju, the military claimed.
The official described the drones as small, less than two meters in wingspan, adding that one of the five drones flew as far as northern Seoul.
The incident prompted the South Korean military to send in fighters, helicopters and other aircraft. However, it is unclear whether the drones were carrying any weapons, according to an official from the South Korean Joint Chiefs of Staff.
After detecting one drone, the South Korean military issued several orders to leave the area, and fired warning shots.
The deployed planes included the KA-1 light attack aircraft, which crashed in Hoengseong County to Seoul's east for unknown reasons. The South Korean Air Force said there have been no reports of damage to civilian buildings.
The incident forced local officials to temporarily halt all civilian flights at Incheon and Gimpo international airports.
Footage released by local media shows a South Korean aircraft apparently scrambling to intercept the drones.
Back in 2017 a suspected North Korean drone was caught following a surveillance mission. The suspected UAV was found crashed near the border.
At the time, Seoul's military officials said the drone was trying to take a picture of a THAAD US missile defense system deployed in South Korea.
According to a 2016 UN report, North Korea had around 300 drones of different types, including reconnaissance, target and combat UAVs. In 2017, the Korea Institute for National Unification, a state-run think tank, claimed Pyongyang was in possession of about 1,000 drones capable of carrying weapons.
The latest incident comes amid heightened tensions on the Korean Peninsula. Last week, Seoul claimed that North Korea had launched two ballistic missiles into the sea, days after US and South Korean warplanes conducted joint exercises.
North Korea has repeatedly argued that its missile tests come in response to the drills, which Pyongyang sees as a preparation for an attack.
You can share this story on social media: