France must change course on Ukraine – ex-presidential candidate
The EU needs to avoid "suicide" from dragging itself deeper into the conflict, Nicolas Dupont-Aignan says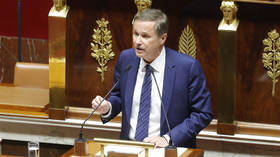 France must act as a mediator between Ukraine and Russia instead of imposing sanctions on Moscow and sending weapons to Kiev, legislator and former presidential candidate Nicolas Dupont-Aignan has said.
He also criticized Ukrainian President Vladimir Zelensky and urged the Europe to avoid becoming mired in the conflict.
"France … should distance itself and assume the role of arbiter. Because the objective of Zelensky is no longer to defend Ukraine, but to be an instrument of the destruction of Russia by sacrificing his people," Dupont-Aignan, the founder and leader of the right-wing Debout la France (France Arise) party, said in an interview with several French news organizations on Sunday.
"This is the time to make peace, to find the compromise between the two sides, and calm Zelensky down," the politician said, adding that it is "time to avoid the suicide of Europe."
I am not legitimizing Russian aggression. I am simply saying that today the two forces are in the process of exhausting themselves, and Europe is in the process of sinking alongside them.
Dupont-Aignan argued that it is France's "duty" to "defend the sovereignty of Ukraine," but insisted that Paris should "absolutely stop" placing economic sanctions on Russia and delivering weapons to Ukraine – adding that this should be done "in exchange for a ceasefire, and we must come to the negotiating table."
France, along with many other Western countries, has been supplying Kiev with heavy weapons, including Caesar howitzers and MILAN anti-tank weapons. The country has also imposed sweeping economic restrictions on Moscow.
President Emmanuel Macron said on Saturday that NATO member states may have to offer "security guarantees" to Russia when Moscow and Kiev resume negotiations. Peace talks effectively broke down in late March, with Russia accusing Ukraine of stalling the process.
Zelensky has since said that Kiev is ready to resume negotiations if "Ukraine's territorial integrity is restored." The Kremlin has said that these pre-conditions are unacceptable because four former Ukrainian territories became parts of Russia following referendums in late September.
You can share this story on social media: