Missiles strike US base in Syria – Pentagon
The incident comes amid Türkiye's ongoing military operation against US-allied Kurdish militias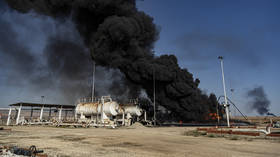 An American military outpost in Syria has come under rocket fire, according to US Central Command, which condemned the yet-to-be-identified attackers for undermining the region's "hard-earned stability" amid rising violence between Türkiye and local Kurdish factions.
At least two projectiles targeted a US "patrol base" near the town of al-Shaddadi in northeastern Syria late Friday night, CENTCOM said in a brief statement, offering no details about who might have carried out the assault.
While the US military remained silent about the type of missiles used in the attack, it noted that a "third unfired rocket" was later discovered by the Kurdish forces at an "origin site," indicating that it was not a cross-border strike and the projectiles were fired from a relatively close location.
"The attack resulted in no injuries or damage to the base or coalition property," the military said. CENTCOM spokesman Joe Buccino added that attacks "of this kind place coalition forces and the civilian populace at risk and undermine the hard-earned stability and security of Syria and the region."
Friday's rocket attack comes just days after the Pentagon voiced "deep concern" about Ankara's ongoing military action, claiming that Türkiye's strikes "directly threatened" US personnel stationed at another base in Syria.
Speaking earlier on Friday, Turkish President Recep Tayyip Erdogan declared that his country would continue its operations "no matter who terrorists collude with." Ankara's defense chief, Hulusi Akar, also responded to the US warning, insisting "it is out of the question for us to harm coalition forces or civilians" and that Türkiye's sole mission is to go after terrorist groups.
Türkiye launched Operation Claw-Sword in Iraq and Syria last week, carrying out air and artillery strikes on Kurdish groups it regards as terrorist cells in retaliation for a November 13 bombing in Istanbul, which left six people dead.
Washington has long collaborated with Kurdish fighters in the area under the umbrella of the Syrian Democratic Forces (SDF) militia, and maintains around 900 soldiers in Syria's northeast despite years of objections from the government in Damascus. An SDF commander insisted that Washington has a "moral duty" to prevent a possible ground incursion by its NATO ally Türkiye.
You can share this story on social media: