Time for EU to sanction Türkiye – top German MP
The bloc should "very seriously consider" penalizing Ankara as it "regularly undermines" EU and NATO interests, Jurgen Trittin says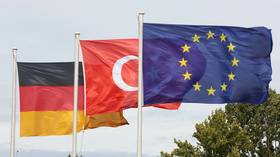 The EU should consider taking "economic measures" against Türkiye over its stance in the conflict between Russia and Ukraine, tensions with Greece, and other issues, a senior German MP, Jurgen Trittin, believes. Formerly minister for the environment and now the head of foreign policy in Germany's Green Party, Trittin made the remarks in an interview with the Greek newspaper Kathimerini published on Monday.
"Turkey regularly undermines the common interests of the EU and NATO. It undermines the sanctions policy against Russia, acts against international law in Syria, prevents the control of the UN arms embargo against Libya and violates the sovereign rights of Greece, a NATO ally and EU member," Trittin stated, referring to Türkiye by its old name in English.
The MP also launched a personal attack at Turkish President Recep Tayyip Erdogan, accusing him of pursuing solely domestic political goals while "ignoring" common Euro-Atlantic interests. The EU should target Ankara with economic restrictions to send a strong message that Türkiye itself needs the bloc the most, Trittin suggested.
Since there are no sanction mechanisms within NATO, nor is it possible to expel a member, the EU must very seriously consider taking economic measures and sanctioning Turkey. Turkey needs the European market and it needs the alliance with NATO. This must be made very clear to it.
Ankara has long aspired to become an EU member, originally launching its bid back in 1987. The process has been extremely slow, however, with formal candidate status achieved only in 1999.
Little to no progress has been made since then, while Türkiye has had repeated run-ins with the bloc over various foreign policy issues. It has failed to meet the political and economic criteria outlined by Brussels for it to become a full-fledged member, while ties with the EU have been gradually deteriorating since 2016, following the failed coup d'état attempt in the country and tensions over the influx of migrants.
In recent months, Ankara has found itself at odds with Brussels over its ambiguous position on the Ukraine crisis. Türkiye has refused to join the Western sanctions against Russia, maintaining ties with both Moscow and Kiev and seeking to play the role of mediator in the ongoing conflict. Türkiye has also experienced renewed tensions with its long-time adversary – and NATO ally – Greece, with the two nations embroiled in a bitter spat over the alleged militarization of the Aegean Islands by Athens.
You can share this story on social media: