China issues another warning to US
A trip by Nancy Pelosi to Taiwan would have a "grave impact" on Beijing's ties with Washington, the Foreign Ministry has said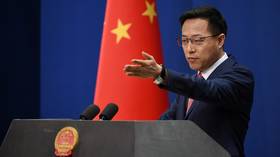 Beijing warned Washington that it would take "resolute and strong" measures should US House Speaker Nancy Pelosi visit Taiwan, China's Foreign Ministry said on Tuesday.
Commenting on reports regarding Pelosi's anticipated trip, apparently scheduled for next month, Foreign Ministry spokesman Zhao Lijian said that it would have a "grave impact" on Sino-American ties. The spokesman also said that if Pelosi visited Taipei, she would violate the 'One China' policy and existing agreements between Washington and Beijing.
"China firmly opposes this as it will have a grave impact on the political foundation of bilateral relations," Zhao pointed out. "If the US were to insist on going down the wrong path, China will take resolute and strong measures to safeguard its sovereignty and territorial integrity. All the ensuing consequences shall be borne by the US side."
Earlier on Tuesday, the Financial Times reported, citing persons "familiar with the situation," that the US House speaker plans to visit Taiwan in a show of support amid pressure Beijing is putting on the island. Should the trip take place, Pelosi would be the most senior US lawmaker to set foot on Taiwanese soil in more than 20 years. The last US House Speaker to visit the island was Republican Newt Gingrich, who went there in 1997.
Zhao Lijian also pointed out that China is adamant in its opposition against any official contacts between the US and Taiwan. "Congress is part of the US state apparatus. This means that it must stand fast by the 'One China' policy pursued by the United States," he said.
At the same time, according to the Financial Times, the White House has voiced concerns about the upcoming visit, partly because of its sensitive timing for China, coinciding with the 95th anniversary of the founding of the People's Liberation Army on August 1.
China's response comes amid simmering tension around the island. Taiwan has been self-governed since the end of the Chinese civil war in 1949, when the defeated nationalists fled to the island. Beijing considers the province to be part of its own territory under the One China policy.
At the same time, while agreeing with the One China policy on paper, Washington maintains strong unofficial ties with Taipei, selling weapons to the island and tacitly encouraging its push for sovereignty. Beijing has repeatedly decried such contacts as provocations and as meddling in China's internal affairs.
You can share this story on social media: