US officials slapped with sanctions
Iran has imposed penalties on 24 former government and military leaders amid stalled talks in Vienna on restoring nuclear deal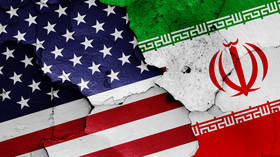 Iran has announced sanctions against an additional 24 Americans, including officials who served in former President Donald Trump's administration, for allegedly supporting terrorism and human rights violations.
Iran's Foreign Ministry announced the measures on Saturday, saying they stem from efforts by US officials to impose or intensify "criminal sanctions" against the Islamic republic, as well as supporting terrorist groups and Israel's "repressive actions" in the Middle East, especially against the Palestinians.
Those sanctioned included former US Army Chief of Staff General George Casey, ex-CENTCOM commander General Joseph Votel and Army General Scott Miller, formerly commander of American and NATO forces in Afghanistan. Top aides in the administrations of Trump and then-President Barack Obama, including lawyer Rudi Giuliani, Commerce Secretary Wilbur Ross and Treasury Secretary Jacob Lew, also were named. In addition, Iran cited former US Ambassador to Israel David Friedman and ex-US Ambassador to Germany Richard Grenell, who later became acting director of national intelligence.
The military leaders sanctioned were guilty of backing and training terrorist groups in the region, Iran's Foreign Ministry said. Ross, Lew and other former administration officials were faulted for their roles in sanctioning Iran. The ministry said Grenell advanced a policy of "maximum pressure" against Iran, depriving the Iranian people of their "most basic rights," while Giuliani provided political and propaganda support for "the terrorist group of hypocrites."
The announcement came amid an apparent impasse in negotiations to restore the 2015 Joint Comprehensive Plan of Action (JCPOA) nuclear deal, which the Trump administration abandoned in 2018. At the time, Trump imposed harsh sanctions against Tehran, saying the JCPOA was "at best delaying" Iran's ability to develop nuclear weapons.
Washington deliberately imposed harsh living conditions on Iranians, including blocking their access to medicines amid the Covid­-19 pandemic, thus endangering millions of lives. Those actions marked "a clear violation of the fundamental principles of international law and fundamental human rights and a clear example of a crime against humanity," Tehran said.
Last year, Iran imposed sanctions on 10 Americans, including Trump and former Secretary of State Mike Pompeo. Another 50 people were added to the sanctions list in January, based on their alleged roles in killing Iranian military commander Qassem Soleimani.
Sanctioned individuals are banned from entering Iran, and their assets in the country can be confiscated. However, given that Americans are barred from investing in Iran, the sanctions are largely symbolic. The latest round of blacklisted individuals includes former executives of Kharon Co., a research firm that allegedly facilitated the imposition of US sanctions against Iran.
You can share this story on social media: