China and Philippines issue statement on dispute
Regional leaders have called for calm in the South China Sea as the Philippine president prepares to step down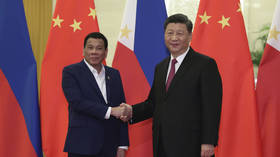 Chinese leader Xi Jinping and Philippine President Rodrigo Duterte spoke of the need to maintain diplomatic calm in the contested waterways of the South China Sea during an hour-long telephone summit on Friday.
"The leaders stressed the need to exert all efforts to maintain peace, security and stability in the South China Sea by exercising restraint, dissipating tensions and working on a mutually agreeable framework for functional cooperation," Duterte's office said in a statement, adding that both nations' leaders were willing to "broaden the space for positive engagements" despite existing disputes.
The Philippines clashed with China last month over a Chinese Coast Guard vessel allegedly engaging in "close distance maneuvering" in the South China Sea, claiming the ship's activities increased the risk of collision. It was the latest of 200 such diplomatic protests Manila has filed over its neighbor's activities in the disputed waterway. The two nations have both claimed rights to the South China Sea, a lucrative trade route through which $3 trillion passes annually. The dispute has been ongoing since a 2016 international arbitration ruling invalidated China's exclusive claims to the waterway.
During their virtual summit on Friday, the two leaders also spoke of the need for a peaceful resolution to the war in Ukraine and promised to collaborate to address the problems of climate change.
Xi specifically expressed approval of the two countries' handling of their disputes in the South China Sea, stating that "regional security cannot be achieved by strengthening military alliances," according to Xinhua News Agency.
However, Manila has previously stated that it may open its facilities to use by the US should the war in Ukraine become a global conflict.
The Philippines has also beefed up its alliance with Japan, increasing joint exercises and defense cooperation. The two countries made clear their opposition to "actions that may increase tensions" in the East and South China Seas in a joint statement on Saturday and condemned Russia's "aggression" in Ukraine, claiming it affects not just Europe but Asia as well.
Duterte, who was elected president in 2016, is due to step down later this year. He has pursued a policy of rapprochement with Beijing, having relented on territorial disputes in exchange for billions of dollars in investment pledges, loans and aid.
You can share this story on social media: