Boeing 737 crashes in China
China's Civil Aviation Authority confirmed 132 people had been aboard the downed China Eastern Airlines aircraft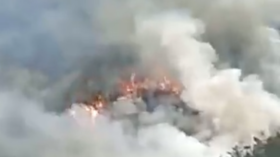 China's Civil Aviation Authority confirmed on Monday that a Boeing 737 had crashed in a mountain range in Tengxian, Guangxi, in the country's south.
The plane had been carrying 132 people – 123 passengers and nine crew – the authority announced in a brief statement. It is not yet known how many have been injured, or if there are any fatalities.
Chinese state media outlet CCTV stated that rescue efforts were currently underway, and that a mountain fire had been reported following the accident. Footage reportedly showing the downed aircraft is circulating on social media, but its veracity has not been confirmed.
Flight MU5735 had been traveling from Kunming to Guangzhou when it experienced difficulty, according to flight tracking data websites.
【Crash site】A Boeing 737 passenger plane carrying 133 people from China Eastern Airlines had an accident in Teng County, Guangxi and then triggered a mountain fire. At present, the rescue team has gathered, the casualties are still unknown. pic.twitter.com/udlT6qqKWZ

— 豆腐Toufu.exe🀄️ (@y1499003) March 21, 2022
Footage circulating online reportedly records the final moments of Flight MU 5735, showing what appears to be an aircraft nosediving into the mountain range where the incident was reported to have occurred. CCTV and a dashcam captured video of what social media users claim was the plane in the final seconds before it crashed.
The plane, which carried the registration B-1791, appears to have been acquired by the company in June 2015, and has been operational for the past seven years.
China Eastern Airlines has reportedly suspended all flights following the Boeing 737 crash. It is not clear how long the company plans to keep its planes grounded or what checks are set to be carried out on its fleet.
The official website for China Eastern Airlines was made monochrome on Monday in the wake of the news that the aircraft had crashed.
President Xi Jinping has expressed his shock about the unfolding incident and ordered an immediate investigation into the cause of the crash. The plane is said to have lost contact with air traffic control, and to have fallen thousands of meters in just three minutes.
Chinese airlines have maintained a strong safety record over the past few years – a period during which the country established new infrastructure to meet the nation's growth. China's last fatal air accident was in 2010, when 44 of the 96 people aboard an aircraft died in a crash, according to the Aviation Safety Network. The deadliest incident involving a Chinese commercial flight was a China Northwest Airlines incident in 1994 that killed all 160 passengers and crew.
You can share this story on social media: