EU launches Ukraine civil protection hub in Romania
The European Commission will send Kiev €500 million in humanitarian assistance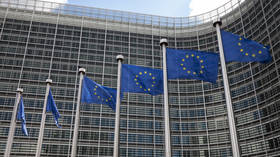 Speaking at a press conference on Thursday with Romania's president, European Commission President Ursula von der Leyen redeclared the European Union's support for Ukraine's membership application.
"There is no doubt that these brave people who defend our values with their lives belong in the European family," von der Leyen told reporters, outlining the support the EU will provide Kiev amid the ongoing conflict in Ukraine.
Declaring that it is "our duty as Europeans" to provide support "in times of war," von der Leyen announced a "civil protection hub for Ukraine" will be based in Romania and "at least €500 million" ($554.40 million) in humanitarian assistance be sent to Kiev.
Romanian President Klaus Iohannis revealed he had discussed with von der Leyen about the need to increase support for countries that are "currently dealing with a large number of Ukrainian refugees."
Iohannis and von der Leyen did not specify where exactly the new hub will be established, but the pair expected it would be required, fearing the conflict in Ukraine will escalate.
"We are in this together and we will accompany Ukraine in this process with determination, with unity and with solidarity," von der Leyen stated, citing how the EU plans to connect the slavic nation to the European electricity grid.
During their joint press conference, the pair reaffirmed the importance of continuing to impose sanctions on Russia amid the conflict in Ukraine.
The European Commission president was clear that the EU's intention was to "cut off the Kremlin's capacity to wage war on its neighbors," warning "additional steps" might be required if the situation in Ukraine deteriorates further.
You can share this story on social media: