Zelensky reveals number of foreign 'volunteers' for Ukraine
The first of some 16,000 fighters have already arrived, the Ukrainian president has said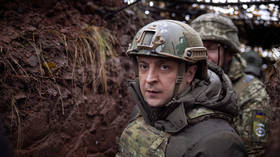 Some 16,000 foreign "volunteers" are heading for Ukraine to fight against Russia, President Volodymyr Zelensky said on Thursday. The militants are coming as the country continues to receive lavish military aid from abroad, he added.
"Ukraine continues to receive weaponry on a daily basis from our partners, from real friends. And the weapons are more and more powerful every day," Zelensky said in a taped address shared on social media.
Ukraine is already welcoming foreign volunteers who are coming to our country. First ones from 16,000. They are coming to defend freedom, defend life. For us, for everyone. And it will be a success, I'm sure.
Earlier, Ukraine announced the creation of an International Legion of Territorial Defense, a state-backed paramilitary unit meant for foreign fighters to join. Several European countries have already said they would not prevent their citizens from traveling to fight in Ukraine.
International volunteers and alleged mercenaries have long been involved in the conflict in Ukraine's east, where Kiev's troops faced off against the breakaway republics of Donetsk and Lugansk. A week before Moscow launched its offensive against Ukraine, Foreign Minister Sergey Lavrov said it had observed an increase in mercenary hiring, alleging that the foreign fighters were bound for Donbass to prop up Ukraine's military and target Russia elsewhere.
"There's information that mercenaries from Kosovo, Albania, and Bosnia and Herzegovina are being recruited to be transported to Donbass, and other nations, in order to destabilize Russia. We're checking that," Lavrov told RT back then.
Russia launched its large-scale military operation in neighboring Ukraine last week, arguing it was the only option left to protect Donetsk and Lugansk, as well as outlining goals to "denazify" and "demilitarize" the country. Kiev branded the attack "unprovoked," stressing that it has had no plans to retake the regions by force. Donetsk and Lugansk split from Ukraine back in 2014 following the Maidan events in Kiev that ousted the country's government.
You can share this story on social media: