Japan to freeze assets of Russian businessmen
Assets of four additional banks to be frozen from April 2, finance minister says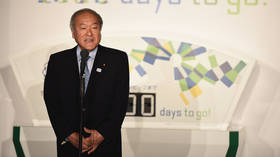 Japan's Finance Minister Shunichi Suzuki announced on Thursday that Tokyo will freeze the assets of four additional Russian banks from April 2, raising to seven the total number of financial institutions slapped with sanctions.
The Prime Minister's cabinet accepted the decision to freeze the assets of VTB Bank, Sovcombank, Novikombank and Otkritie, according to the Ministry of Finance. The move will be effective from April 2, the ministry said.
The measure is in line with the EU decision to disconnect seven Russian banks from the SWIFT financial messaging system as a retaliation against Russia for its military offensive against Ukraine.
"Japan supports the EU's decision and will firmly implement sanctions with other Group of Seven members," Suzuki stated in a press briefing on the matter.
The Japanese government also reportedly decided on Thursday to freeze the assets of 18 Russian officials and seven high-ranking Belarusian officials, as well as those of two Belarusian organizations. Tokyo has also banned exports to Belarus.
Russia started a military invasion of Ukraine last Thursday, claiming it had to stop Ukrainian armed forces from attacking the breakaway regions of Donetsk and Lugansk, and to demilitarize and "denazify" the country to ensure Russia's own security.
Kiev and Western countries condemned Russia for committing an act of unprovoked aggression. Western sanctions imposed against Moscow in retaliation are intended to seriously impact the Russian economy, and the UN adopted a resolution, condemning Russian actions in Ukraine and demanding it immediately withdraw its troops.
You can share this story on social media: