Japanese airlines cancel all flights to and from Europe
Airlines that used Russia's airspace for their European flights have cited safety risks amid the war in Ukraine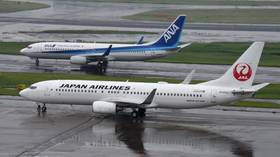 Japan's flag carrier, Japan Airlines Co. Ltd. (JAL), along with another major airline in the country, belonging to ANA Holdings Inc, have canceled all flights to and from Europe, citing safety concerns amid Russia's invasion of Ukraine.
According to Reuters, both companies announced their decision on Thursday. A JAL spokesperson said the airline was "continuously monitoring the situation," and, in light of the "present situation in Ukraine and the different risks, we have decided to cancel flights."
ANA Cargo's website, in turn, cited the "high possibility of its operations not being able to overfly Russia due to the current Ukraine situation."
Under normal circumstances, both companies use Russia's airspace for their flights to and from Europe. Before the conflict broke out, JAL and ANA reportedly operated 60 per week, on average, with London, Paris, Frankfurt, and Helsinki among the main destinations.
Last week, JAL also canceled a weekly return flight between Moscow and Tokyo, "in light of the current situation in Russia and Ukraine."
Taiwanese carriers have stopped flying over Russian territory as well, Reuters has reported.
As of March 3, Korean Air Lines continues to use Russia's airspace, however.
Since February 24, when Russia invaded Ukraine, more than 35 countries, including the US, Canada, and all those in the EU, have banned Russian planes from entering their respective airspace. Russia has mirrored those decisions, closing the usual routes from Europe to Asia to Western airlines.
Japan has not yet closed its airspace to Russian jets, however, nor has Moscow imposed any such curbs, so technically Japanese carriers can still fly over Russia.
In light of the restrictions, a number of companies have had to either cancel or reroute their flights from the European Union to north Asia. The alternative routes are typically longer, meaning planes use up more fuel and can carry less cargo, according to Reuters.
In addition to the massive disruptions to air travel on both sides, Russia has been slapped with a raft of crippling sanctions over the past week, which, among other things, target the country's central bank's assets, several major commercial banks, and the country's leadership directly.
When launching the military offensive in Ukraine in late February, Russian President Vladimir Putin named the "demilitarization and denazification" of its neighbor as the operation's main objectives. He also cited the need to protect the Russian-speaking population of the Donbass republics. Ukraine and the West, however, insist that Russia is waging an aggressive and "unprovoked" war against a sovereign nation, with Moscow's grievances being merely a pretext. The Ukrainian government and some of its allies suspect that Putin is intending to install a pro-Russian puppet government in Kiev.
You can share this story on social media: