US closes airspace to Russian flights
Joe Biden said Moscow "has no idea what's coming" after declaring an outright ban on the country's flights in American skies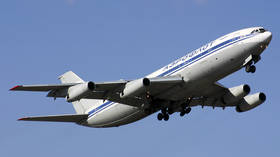 US President Joe Biden has announced that all Russian flights will be barred from US airspace, citing Moscow's ongoing military action in Ukraine, while warning of more retaliation to come.
Speaking on Tuesday night in his annual State of the Union address, Biden lashed out at his Russian counterpart Vladimir Putin, saying he had "badly miscalculated" by sending forces into Ukraine and suggesting he must "pay a price."
Though he unveiled little in terms of substantial new policies during the speech, the president did state that US airspace would now be closed off to Russian flights, suggesting this would inflict further harm on the country's economy following a raft of sanctions in recent days.
"Tonight, I'm announcing that we will join our allies in closing off American airspace to all Russian flights, further isolating Russia and adding an additional squeeze on their economy," he said, adding that Moscow "has no idea what's coming," apparently referring to further penalties.
Multiple countries, including the UK, Canada and the entirety of the EU, previously shut their airspace to Russian flights in the days since Moscow's invasion of Ukraine last week. Russia has responded in kind, banning airlines from 36 states and territories from its skies.
President Putin argued that the "special military operation" was meant to defend the Donetsk and Lugansk People's Republics, which broke off from Ukraine after the 2014 coup in Kiev and have since been under siege by government forces. Ukraine claims the attack was unprovoked and has appealed to the international community for help to repel Russian troops, including weapons and other direct military aid. To date, no nation has volunteered to send soldiers, but a number of Western states continue to offer arms and other non-direct military assistance.
You can share this story on social media: