Germany to ship more weapons to Ukraine – reports
German media claim Berlin will provide Kiev with Soviet-designed 'Strela' anti-aircraft missiles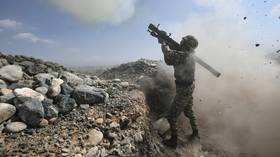 Berlin has approved the delivery of 2,700 anti-aircraft missiles to Ukraine amid Russia's invasion, German media have claimed. According to the DPA news agency, the weapons in question are Soviet-designed 'Strela' missiles from the stockpiles of the former East German army.
Unlike the US and the UK, up until February 24, when Russia invaded Ukraine, Germany had consistently refused to provide the eastern European nation with lethal weapons. However, Berlin changed its position following Moscow's military offensive.
On top of the cited anti-aircraft missiles, Germany's defense ministry is preparing further shipments of weapons to Ukraine, DPA has also reported.
On Saturday, Berlin announced the decision to deliver 1,000 anti-tank weapons as well as 500 anti-aircraft 'Stinger' missiles to Ukraine. This shipment had reached its destination by Wednesday, DPA claims, citing sources in the German government. Moreover, it has given the green light to shipments of German-made weapons from the Netherlands and Estonia.
Germany's Chancellor Olaf Scholz argued on Saturday that the "Russian attack on Ukraine marks a turning point in history," adding that Moscow's actions "threaten our collective post-war order." He went on to say that "in this situation it is our duty to support Ukraine as best we can in the defense against the invading army of Vladimir Putin."
The country's foreign minister, Annalena Baerbock, along with vice-chancellor, Robert Habeck, also stressed that "following Russia's shameless attack, Ukraine must be able to defend itself." The German officials insisted that Kiev has an "inalienable right" to self-defense.
Ukrainian authorities, who had previously criticized Germany for its refusal to ship lethal weapons to the country, welcomed this major shift in Berlin's policy. On Saturday, President Volodymyr Zelensky tweeted "keep it up, Chancellor Olaf Scholz."
Unsurprisingly, Moscow is far from happy with Germany's shipments. Russia's foreign ministry spokeswoman Maria Zakharova has warned that "with this decision, Germany is not only raising the specter of the Cold War, but also that of the hot war." She added that, now that "weapons against Russian soldiers are being sent from German soil," Chancellor Scholz's words about the reconciliation between the two people after WWII, which he had delivered during his visit to Moscow on February 15, sound "particularly cynical."
In his televised address to the Russian people, President Vladimir Putin claimed that Russia had no other choice but to launch a military offensive in Ukraine in light of what he described as the rise of neo-Nazi forces there, and NATO's alleged plans to drag the country into the military alliance and to use its territory to threaten Russia's security. The Russian head of state said that his forces were seeking to "demilitarize and denazify" a neighbor, as well as to protect the Russian-speaking population in the Donbass. Ukraine and its Western allies dismiss those claims as merely a pretext for waging an aggressive and "unprovoked" war against a sovereign country. Kiev and some Western governments also claim that Putin's endgame in Ukraine is the installation of a pro-Russian puppet government in the country.
You can share this story on social media: