Britain rules out 'active role' in Ukraine
A junior defense minister suggested miscalculations could cause an unnecessary escalation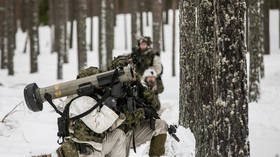 Following Russia's attack on the Eastern European nation, Britain said on Friday that it would not play an "active role" in the conflict in Ukraine, warning that such action could lead to an unnecessary escalation.
"We must all in this house be clear that British and NATO troops should not, must not, play an active role in Ukraine," the armed forces minister, James Heappey, told Parliament.
"We must all be clear what the risk of miscalculation could be, and how existential that could very quickly become if people miscalculate and things escalate unnecessarily," he added.
The minister said any military clash between NATO and Russia posed an "existential" and unnecessary risk.
However, he announced that the UK would send extra troops to Estonia "earlier than planned" in an effort to reinforce its NATO ally's defenses amid increased Russian aggression.
The Welsh battlegroup would soon arrive in the country, doubling troop numbers there, he said.
On Thursday, Russia announced the commencement of a special "operation" in the Donbass, after the leaders of Donetsk and Lugansk asked Moscow for military assistance.
Russian President Vladimir Putin's move came after his government recognized the independence of the two breakaway republics in response to Ukraine's alleged failure to implement its obligations under the Minsk agreements struck in 2014 and 2015 to resolve its conflict with the separatists.
You can share this story on social media: