How will Western sanctions on Russian banks impact ordinary citizens?
Washington and Brussels approved sweeping measures targeting Moscow's financial sector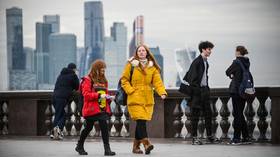 The US government announced a set of 'long-term' sanctions on Russian banks on Thursday in response to Moscow's military operation in Ukraine. The sanctions were supported by Washington's allies, including the EU, Japan and Australia.

Which Russian banks have been targeted by the latest sanctions?
The blacklisted banks include Sberbank and 25 of its subsidiaries; VTB Bank, including 20 subsidiaries; as well as other major Russian financial institutions like Bank Otkritie; Sovcombank; Novikombank, and 34 of its subsidiaries.

Do all Russian lenders targeted by sanctions face the same penalties?
No. Sberbank, the largest bank in Russia, is facing the so-called correspondent and payable-through account sanctions. The new penalties restrict the lender's access to dollar-denominated transactions. However, the White House admitted that Sberbank is "heavily connected to the global financial system." VTB Bank, Russia's second-largest financial institution, Bank Otkritie, Sovcombank, and Novikombank face "full blocking sanctions," which will freeze any VTB assets touching the US financial system and ban US citizens from dealing with them.
What has been the reaction of ordinary Russians?
There have been queues at ATMs across Russia. According to data revealed by the Russian Central Bank, demand for cash among individuals and businesses has soared to the highest levels since the end of March 2020. On Thursday, daily withdrawals amounted to more than 100 billion rubles (over $1 billion). The number is still 1.5 times lower than during the surge in currency withdrawals in the early days of the Covid-19 pandemic.

What financial services will not be available to Russians?
Cards issued by VTB Bank, Bank Otkritie, Sovcombank, and Novikombank will not work with services such as ApplePay and GooglePay, Russia's Central Bank said on Friday. VTB advised its customers abroad to withdraw funds or pay using other banks.

Will the sanctions affect bank card usage inside and outside Russia?
The penalties won't target the Russia-based clientele of the sanctioned banks. However, all US financial institutions are required to close any Sberbank correspondent or payable-through accounts within 30 days, as well as to reject any future transactions involving the lender or its foreign financial institution subsidiaries.

Will Russia be disconnected from SWIFT
Western countries still haven't announced plans to cut off Russian banks from SWIFT. Washington didn't rule out blocking Russia's access to the international payment system, but some European countries did not support the idea because the move would not only hit Russian banks but would also make it tough for European creditors to get their money back. They also noted that Russia has been developing an alternative payment system.

Should Russians be concerned?
Basically, no. Sanctions will not affect bank transactions for clients in Russia and domestic lenders will continue to provide services without restrictions, the Central Bank said. However, using cards abroad or paying online in stores registered in countries that support the sanctions will be impossible. The drastic measures taken by the US and its allies have forced the regulator to introduce an emergency support package that will ensure the maintenance of Russia's financial stability and the business continuity of financial institutions. The Central Bank assured the public that the country's financial institutions have a clear plan of action for any scenario.
You can share this story on social media: