YouTube deletes RT's German language channel showing newly launched 24/7 TV broadcast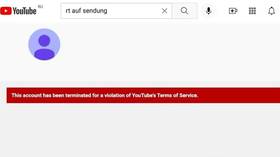 RT's auf Sendung channel was removed from YouTube on Thursday, just hours after RT DE launched a round-the-clock TV broadcast in Germany.
The much anticipated German-language channel had gone on air, with RT's auf Sendung page set up on YouTube to allow the internet audience to watch it live. However, only five hours later the page had been removed by the platform.
You can WATCH the live broadcast of the new channel on RT DE's official website.
Google, who owns YouTube, said in a statement that the new channel was deleted due to being created in violation of earlier restrictions that had been placed on the outlet.
Two of RT DE's channels were removed from YouTube in September due to what YouTube claimed was a violation of community guidelines, the company explained. RT auf Sendung (the one deleted on Thursday) was taken down because, according to the platform's rules, the owners of deleted channels are barred from launching and operating new ones, it explained.
Following the September's decision, RT's editor-in-chief branded it a "declaration of media war against Russia by Germany," and called on Moscow to respond.
Speaking about the latest development on Thursday, RT's editor-in-chief, Margarita Simonyan, said the German authorities were acting in an "astonishing way." She once again noted that RT had not faced "such difficulties and such restrictions in any other country," as the German authorities sought to prevent the broadcaster from going on air.
"Now, as we went on air, they blocked our new YouTube channel as well," she said, adding that such behavior is hardly "surprising." Simonyan pointed out that the German language channel's live broadcast is still available, including on the website and on the mobile app. German audiences would appreciate an alternative source of information, she claimed.
Before its removal, RT DE was the fourth-most influential German-language news source on the platform, surpassing Deutsche Welle and a number of other news broadcasters.
The audience for RT's German language online platform, RT DE, has been steadily growing ever since its launch back in 2014. According to CrowdTangle data, it is currently the top German-language news media on Facebook, based on total interactions over the past 12 months, surpassing such German media heavyweights as the tabloid Bild or Der Spiegel magazine, as well as the public broadcaster ZDF.
Its videos, according to Tubular Labs, are also among the top-five most viewed on Facebook, beating those of such German grandees as Spiegel TV, Zeit Online, and Focus Online. RT's multilingual family of websites has also turned out to be more popular than that of Germany's state-owned international broadcaster, Deutsche Welle, when it comes to visits from Germany.
You can share this story on social media: