Game over for Fortnite in China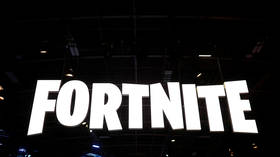 Popular online action game Fortnite was taken offline in China on Monday, two weeks after the game's developer announced the end of a trial period by the country's authorities amid a crackdown on the gaming and technology sector.
Earlier in November, developer Epic Games said it would be shutting down its Fortnite servers due to the challenges of complying with the strict restrictions imposed by the Chinese government on the gaming and technology markets.
As of Monday morning, Chinese players took to social media to confirm that they were no longer able to access Fortnite, in line with the timeframe that Epic Games had described.
A hashtag about the game on Chinese social media site Weibo has reportedly been viewed 470 million times, according to AFP, with some users saying that the situation had left them in tears, while others issued a farewell message, saying "we'll meet again if fate decrees."
Fortnite was released in China for beta testing back in 2018 but it has never been formally approved by the government, making it difficult for the company behind it to monetise content in the game.
China has stepped up a crackdown on gaming in recent years, seeking to block content that contained what it sees as excessive violence. The situation forced one developer, Tencent, to launch a gore-free version of its battle royal game 'Playerunknown's Battlegrounds' to secure support from regulators.
Among the restrictions imposed on the sector in China, the country's government has sought to impose a curfew on gaming for minors. It recently tightened earlier-imposed restrictions even further, limiting online gaming to one-hour increments for under 18s between 8pm and 9pm China Standard Time on Fridays, weekends and holidays.
State media in China has previously estimated that around 62.5% of under-18s in China play video games online regularly, with 13.2% of that age group playing mobile games for more than two hours per day during the week.
Think your friends would be interested? Share this story!
You can share this story on social media: