London & Paris trade barbs over Channel crossings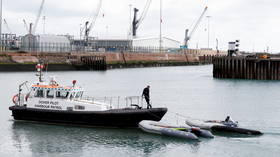 The UK and France have blamed each other for a surge of illegal crossings of the English Channel. The problem is either French vengefulness or British sloppiness in reforming labor law, depending on who you ask.
French Interior Minister Gerald Darmanin is to host British Home Secretary Priti Patel later on Monday to discuss the issue of illegal channel crossings, which surpassed a 1,000 daily benchmark last week. Ahead of the meeting, the parties pointed the finger at each other, explaining who was the culprit in the escalating migration and diplomatic crisis.
Darmanin said the problem was in Britain's failure to reform its labor law, which encourages illegal migration. "If the British overhauled their legislation...there would be no people in Calais and Dunkerque," he assessed, naming French port cities where many would-be migrants gather before attempting to cross over to Britain in ramshack dinghies.
At the moment, the British labour market relies "in many ways on an army of reserves, as Karl Marx would say, of irregular workers," the minister said in an interview with CNews television.
Meanwhile British government sources, when speaking anonymously to the British media, claimed that France was intentionally failing to intercept the boats, contrary to the public promises given to London.
"With the elections coming up they think it will only get worse. [Ministers] think it's part of Macron's Brexit punishment strategy," one source told The Times. France is set to elect its next president in April 2022.
"Unfortunately we're just part of a much bigger issue with the election, Northern Ireland and fishing," a source in the Home Office told the newspaper, referring to unresolved points of contention between the UK and France. "They don't want to be using French taxpayers' money ahead of the election."
The Boris Johnson cabinet is reportedly quite pessimistic in its expectations from the Darmanin-Patel meeting.
French officials said the number of people attempting to cross the English Channel and the size of the area that they need to patrol to intercept them make it impossible to catch many of the violators. In July, Britain agreed to fund extra patrols, but the delivery of the money stalled while British demands for better policing of the channel persisted.
In mid-October Darmanin publicly called out London, saying it failed on its promise of paying the French coast guards to clamp down on the crossings. The UK has since transferred the first installment of £54 million ($72million) to France, and hopes there will be a doubling of interception rates, The Times reported.
If you like this story, share it with a friend!
You can share this story on social media: