First reported death of a teenager after Covid-19 vaccination registered in South Korea, authorities investigate incident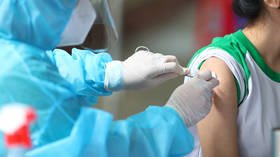 A teenager with no underlying health conditions died in South Korea after having received a Covid-19 Pfizer shot, authorities have reported, saying it's the first such case of a vaccinated minor dying.
A probe into the teenager's death has been launched, the country's major news agency Yonhap reported on Saturday, citing health authorities. The unnamed child was a high schooler who was vaccinated with the Pfizer-BioNTech Covid-19 vaccine in mid-August.
Specifying that the young vaccine recipient had no underlying health conditions, authorities said the teenager died in late September. The death marks the first reported fatal case among vaccinated teenagers, officials added.
Also on rt.com
South Korea to compensate nurse paralyzed after AstraZeneca vaccine
Earlier this year, health officials in the US were investigating the death of a 13-year-old from Michigan who died three days after receiving the second shot of an unnamed coronavirus vaccine. The case then prompted a group of medics from a far-off country, Singapore, to pen an open letter to their state officials, calling for the inoculation of youths to be ceased until the US Centers for Disease Control and Prevention (CDC) clarified why a teenage jab recipient died.
In South Korea, high school seniors and those aiming to attend national college entrance exams have been receiving Covid-19 vaccines since July. Recently, minors aged between 12 and 17, as well as pregnant women were included in the regional inoculation program, in a bid to increase vaccination coverage in the country. The Korea Disease Control and Prevention Agency (KDCA) then announced that some 2.7 million adolescents would be able to come forward and get vaccinated using the mRNA-based Pfizer-BioNTech shot.
Think your friends would be interested? Share this story!
You can share this story on social media: