Death toll in Beirut's heavy gunfire rises to 5 as violent protests against port blast judge sweep capital, Lebanese army deployed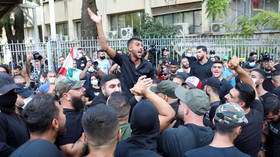 Violent clashes involving heavy gunfire have claimed at least five lives in Beirut amid protests against the lead judge investigating last year's deadly port blast. The Lebanese army has been deployed to quash the unrest.
On Thursday, scenes of unrest uploaded to Twitter showed people running frantically throughout the Justice Palace area of Beirut, with sirens blaring in the background and what sounded like several rounds of gunshots.
#Lebanon#BREAKING ongoing clashes right now in Beirut around the Justice Palace (Badaro/Tayyouneh side) amid a protest for Hezbollah, Amal supporters. It's not certain who is shooting but these areas are inhabited with a majority of Lebanese Forces supporters. pic.twitter.com/gFJbcxcZ0k

— Luna Safwan - لونا صفوان (@LunaSafwan) October 14, 2021
One graphic video on the social media platform captured heavy gunfire and screaming, and a seriously injured man being dragged through the streets, bleeding.
Lebanon's Interior Minister has initially said six people have lost their lives, but later corrected the death toll, saying five people have been killed. He also said snipers were shooting people in the head. Several have also been injured. Lebanese Prime Minister Najib Mikati called for the arrest of the perpetrators of violence in the capital.
In a statement uploaded to the Lebanese army's Twitter account, the military said that its soldiers will gun down any armed man on the road and anyone who shoots from elsewhere. It also said that its unit had asked civilians to evacuate the streets and that searches were underway to find the assailants.
Also on rt.com
Beirut blast probe frozen for second time in weeks after top judge issues warrant to arrest former finance minister
The protests come shortly after the Lebanese court dismissed a case put forward by two politicians, ex-Finance Minister Ali Hassan Khalil and former Public Works Minister Ghazi Zeiter, who were due in the docks in the Beirut blast probe earlier this week.
Tarek Bitar, the lead investigator, had his probe suspended for the second time in under three weeks on Tuesday after Khalil, a senior member of the Shiite Amal movement and an ally of the Iranian-backed Hezbollah group, and Zeiter, also close to the movement complained.
Footage from protests against the lead judge in the probe showed people marching through the street and parading on motorcycles shouting their allegiance to Nabih Berri, a Lebanese Shiite politician who serves as the speaker of parliament.
Another video purported to show protesters burning and stepping on a photo of Bitar.
Lebanese Hezbollah chief Sayyed Hassan Nasrallah on Monday called for him to be replaced, accusing him of targeting specific officials and people and of being biased.
The inquiry into the port blast, which claimed more than 200 lives, wounded around 7,500 people, and caused widespread devastation in the capital on August 4, 2020, was initially paused at the end of September after an official under investigation filed a complaint against him.
Despite attempts to serve justice, the probe has proven fruitless in its attempts to hold senior officials accountable. In August, Bitar dished out a subpoena to ex-caretaker PM Hassan Diab for failing to show up to his inquiry, but the secretary general of Lebanon's parliament said that he had used his power excessively.
Also on rt.com
Tear gas & rubber bullets used against Lebanese protesters demanding justice for victims of Beirut blast (VIDEOS)
On the anniversary of the protests, thousands of Lebanese people hit the streets of Beirut to demand justice for the victims of the catastrophe. Tear gas and rubber bullets were deployed by police on rock-throwing protesters.
Fadi Sawan, Bitar's predecessor, was axed from his role of leading the inquiry in February after former ministers accused of negligence said he was acting out of his jurisdiction.
Think your friends would be interested? Share this story!
You can share this story on social media: