Former French president Sarkozy sentenced to 1-year jail term over illegally financing 2012 election campaign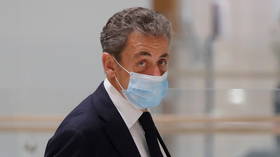 France's former president Nicolas Sarkozy has been found guilty of illegal campaign financing and sentenced to one year in prison. The court will let him serve the sentence at home.
The ex-president will be able to complete his sentence without going to jail, but he will have to wear an electronic monitoring bracelet, the court ruled.
Sarkozy, who was president between 2007 and 2012 and still maintains a strong influence in the country's conservative circles, wasn't present at the hearing. The 66-year-old politician has the legal right to appeal against the ruling.
He earlier denied any wrongdoing, telling the court in June that he hadn't been involved in the logistics or allocation of funds in his campaign for a second term as president in 2012.
Also on rt.com
Macron sues French billboard owner over posters depicting president as Hitler
The prosecutors sought a one-year prison sentence, half of it suspended, for Sarkozy. They blamed him for spending nearly double the €22.5 million allowed under French electoral law on the campaign and later hiring a friendly PR firm to hide it.
The candidate knew about the irregularities, he was warned by the accountants about them on at least two occasions, but chose to proceed, the prosecutors insisted, describing Sarkozy as "the only person responsible for his campaign financing."
Incidentally, the overspending and huge rallies held by Sarkozy's team weren't enough to win reelection for him as Socialist Francois Hollande became president in 2012.
Apart from the ex-president, 13 other individuals, including Republican party members, accountants and employees of Bygmalion communication group, which had organized Sarkozy's campaign rallies, are on trial in the case.
The prosecutors requested mainly suspended prison sentences for them on such charges as forgery, breach of trust, fraud and complicity in illegal campaign financing. Bygmalion's co-founder is facing the possibility of a one-year prison term.
Some of the defendants cooperated with the investigation, detailing a whole system of false invoices used to cover up the excessive sums allocated to the campaign.
Also on rt.com
Ex-French president Sarkozy sentenced to year in prison for corruption, plus 2 years suspended
It's already the second guilty verdict for Sarkozy this year. In March, he was sentenced to three years in jail – two of them suspended – for attempting to bribe a judge and peddle influence in order to obtain confidential information on a judicial inquiry.
The ex-president, who also denied any wrongdoing, hasn't actually spent a day in prison yet as his appeal against the ruling is still pending.
Think your friends would be interested? Share this story!
You can share this story on social media: