Greek island of Crete hit by 6.0 earthquake and multiple subsequent tremors (VIDEOS)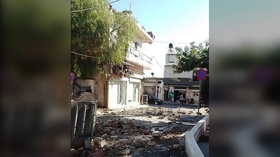 Crete has been rocked by a chain of earthquakes. The first to hit the Greek island measured a magnitude of 6.0 and was followed by subsequent, smaller quakes, according to the Euro-Mediterranean Seismological Center (EMSC).
On Monday, the 6.0 magnitude quake struck 25km (16 miles) southeast of Crete's port city of Heraklion at around 9:17 am local time (6:17 GMT) with a depth of 10km (6.2 miles).
The large quake was then succeeded by a string of smaller tremors, with the two biggest quakes that followed measuring in at 4.6 around 90 minutes after the first, the EMSC said.
The monitoring group warned "aftershocks are already occurring and may occur in the next hours/days," and urged people to adhere to information given by national authorities and "be careful."
Footage circulating on Twitter purported to show items in shops and homes smashed, as well as lights flickering on and off as buildings rattled. Other videos captured people rushing for safety in Heraklion.
Alongside damage to old, stone buildings, people were also evacuated from their hotels. One holidaymaker shared a photo of dozens of people crowded together in the wake of the quake.
An image of the Crete landscape on Twitter showed clouds of dust rising high into the sky following the intense tremor.
One fatality has been reported by local news outlets. The man reportedly died when he was crushed by a dome while working in a church outside the village of Arkalochori. At least nine people have been injured and are being treated in hospitals and health centers.
The Mediterranean region is no stranger to earthquakes. A 6.2-magnitude earthquake struck central Greece in March, not far from the regional capital of Larissa.
Meanwhile, an earthquake measuring as high as 7.0 by the United States Geological Survey struck the Aegean Sea at the end of October last year and affected Turkey and Greece. More than 800 people were injured and at least 27 people lost their lives, mainly in the Turkish port of Izmir. On the Greek island of Samos, two teenagers were killed.
Also on rt.com
Turkey's Erdogan & Greek PM Mitsotakis exchange words of SUPPORT after deadly Aegean Sea quake hits both nations
Think your friends would be interested? Share this story!
You can share this story on social media: