Israel to brief FDA on Covid-19 vaccine boosters as health experts seek data to back Biden's 3rd jab rollout plan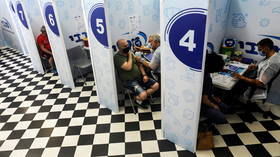 Israeli health officials have agreed to present data from their country's rollout of Covid-19 vaccine booster shots to the FDA, potentially providing ammunition to help the Biden administration justify such a program in the US.
The US Food and Drug Administration (FDA) asked Israel's Health Ministry to brief the agency's advisory committee on booster-shot data at the panel's September 17 meeting, according to Sharon Alroy-Preis, the ministry's head of public health.
"We have been asked to come and present Israel's experience and our data so that we can truly help the whole world to learn," Alroy-Preis said on Sunday in an interview with the country's Channel 12 TV.
Israel launched its booster-shot program on August 1, citing the waning efficacy of Covid-19 vaccines over time, and has so far administered the additional jabs to about 2.6 million people, or roughly 28% of the population.
Also on rt.com
'More data needed': Top health officials reportedly urge White House to 'follow science' & DELAY vaccine booster plans
Last week, Israel expanded the availability of third doses to all residents 12 and older, even as Covid-19 cases continued to surge amid the rollout. Health Ministry officials predict a drop in cases in the coming days, and hope the country will reach the so-called herd immunity "in the next month or two."
Critics, however, fear the country is headed towards a "perpetual cycle of jabs," as authorities said vaccinated people will lose their "green pass" privileges not only six months after the holder receives a second dose, but also six months after their third jab.
Two high-level FDA vaccine officials quit the agency last month, reportedly at least in part because President Joe Biden's administration announced plans for booster shots to start being administered on September 20, despite not having secured approval from regulators. Other US health officials have urged the White House to hold off on the program until data has been adequately reviewed.
READ MORE: Americans will 'likely' need 3rd Covid shot to qualify as 'fully vaccinated,' Fauci says as booster battle rages at FDA
Chief White House medical adviser Doctor Anthony Fauci said on Sunday that the Pfizer-BioNTech vaccine will 'likely' be approved by the FDA in time for Biden's deadline, and Moderna's jab will probably get the green light soon thereafter. He has said, too, that Americans will likely need to get a booster shot to qualify as "fully vaccinated."
The World Health Organization last month called for a moratorium on vaccine booster shots in rich nations because of supply shortages around the world.
Also on rt.com
'This is life from now on': Israel's coronavirus czar warns people to prepare for a 'fourth injection' of Covid vaccine
Like this story? Share it with a friend!
You can share this story on social media: