EU should work towards 'strategic autonomy' to avoid another Afghanistan-like US-led quagmire, European Council president suggests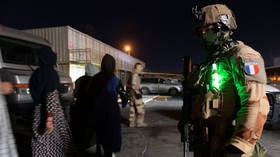 The EU must take greater control of its own security if it hopes to avoid a repeat of the US-led conflict in Afghanistan, European Council President Charles Michel has suggested.
Speaking at the Bled Strategic Forum in Slovenia on Wednesday, Michel said that asserting European influence will be the "greatest challenge" for the bloc in the coming years, with the recently concluded two-decade war in Afghanistan serving as a "stark demonstration" of why Brussels must rethink how it conducts foreign policy.
In my view, we do not need another such geopolitical event to grasp that the EU must strive for greater decision-making autonomy and greater capacity for action in the world.
If the bloc hopes to develop "strategic autonomy," it must bolster its economic power, "reinforce" regional partnerships, and review its approach to defense, the council president said.
"We must reflect, openly and clear-eyed, on a new stage of collective security and defense capabilities," Michel urged.
European influence will be our greatest challenge.We don't need another #Afghanistan to grasp that the EU must strive for greater autonomy and capacity for action.Our strategic autonomy requires working on our economic power, neighbourhood and security capabilities.#BSF2021pic.twitter.com/M9Nyp1n5of

— Charles Michel (@eucopresident) September 1, 2021
EU states were largely reliant on the US military to keep Kabul's airport operational as Washington's allies scrambled to evacuate people from Afghanistan. The US fully withdrew from the country on Monday, ending the nearly twenty-year conflict. More than 1,100 allied service members, including those from EU states, lost their lives in the war.
Brussels has previously signaled its desire to carve out a defense strategy separate from Washington's own foreign policy. In 2018, French President Emmanuel Macron argued that the bloc needed a "true European army" so that it could better defend itself "alone" if need be.
More recently, in May of this year, France's chief of the defense staff, Army General Francois Lecointre, argued that the EU must work towards "meeting the security expectations of her citizens" and avoid getting entangled in a potential conflict between the United States and China.
Also on rt.com
'We must not allow ourselves to be drawn into US-China confrontation' – France's chief of defense staff
Like this story? Share it with a friend!
You can share this story on social media: