Afghans reportedly plunge to their deaths after trying to cling to US military plane taking off from Kabul (UNVERIFIED VIDEO)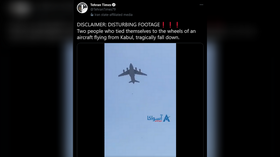 Several people have been killed after attempting to hold on to a plane ferrying evacuees out of Afghanistan's capital, reports say. It comes amid chaotic scenes of Afghans trying to escape Taliban-controlled Kabul.
Horrifying footage posted to social media purportedly shows at least two people falling to their deaths as a US military aircraft takes off from Kabul International Airport. In the video, at least two objects can be seen plunging to the ground as the jet gains altitude.
The Tehran Times claimed that two people were killed after they tried to "hold on" to the plane during takeoff. Other sources suggested that in fact 3 people plummeted to their deaths.
Unnamed US senior military officials later confirmed to the Associated Press that several people had indeed fallen to their deaths amid the evacuation operation, but did not disclose the number.
Around the same time that the shocking footage emerged, a separate video was posted which appeared to show several men clinging to the side of an aircraft that was preparing to leave the airport.
Another video purportedly taken at the airport shows an American military helicopter conducting 'crowd control' on a group of Afghans congregating on the runway. Moments later, dozens of people can be seen chasing a US military transport plane as it moves down the tarmac.
Later on Monday, citing US officials, AP reported that a total of seven people had died at the airport since Sunday evening, with Reuters saying that US troops had shot and killed two gunmen. A Pentagon spokesman later stated that there was "no indication" that the two gunmen had been Taliban fighters.
Like this story? Share it with a friend!
You can share this story on social media: