Volunteer firefighter becomes first fatality of devastating Greek fires amid extreme heatwave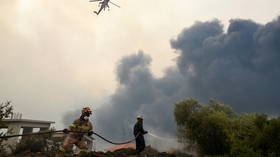 A volunteer firefighter has been confirmed as the first fatality of the forest fires in Greece which were triggered by an extreme heatwave. The deceased died from his injuries after being hit by a falling utility pole.
The 38-year-old volunteer firefighter died from his injuries on Friday. He had been transferred to the KAT hospital in Athens, where doctors did everything they could to save him.
"At 14:00 today, a 38-year-old resident of Ippokratio Politia suffered a blow to the head with undetectable vital signs, from a fall of a PPC pole, according to witnesses present. An attempt was made to revive him for 70 minutes without result," a statement from the hospital read.
Contrary to previous reports, the victim was not a motorcyclist but a volunteer fireman, who was at the scene to battle one of the country's many forest fires.
A second victim of the fires was confirmed later on Friday after Konstantinos Michalos, the president of the Athens Chamber of Commerce, was found dead in his office. Former Finance Minister Yanis Varoufakis said in a tweet that his friend Michalos had died from smoke inhalation, while local news reports said he is believed to have suffered a heart attack. His office was located in Kryoneri, in close proximity to the wildfires.
Also on rt.com
Greeks told to remain alert for wildfires as emergency services battle Athens blaze amid biblical heatwave
On Friday, thousands were forced to flee their homes around Athens as firefighters struggled to hold back wildfires after a week of scorching temperatures. Some had to leave their homes by boat as blazes cut off key transport links on land.
Emergency services are fighting on 56 fronts, with blazes from the Peloponnese to the island of Evia near the capital. "We are continuing our efforts, hour by hour, to tackle multiple fires today," Deputy Civil Protection Minister Nikos Hardalias said, as authorities ordered further evacuations in the northern suburbs of the capital.
"Conditions are extremely dangerous," the minister noted, adding that emergency services, including hundreds of firefighters with water-bombing aircraft, were battling around the clock to prevent a blaze from reaching the nearby town of Marathon.
Athenians were once again told to remain indoors of Friday as the city was choked by wildfire smoke. Daytime temperatures have remained over 40C (107 Fahrenheit) for a week.
The government has issued repeated warnings to Greeks, calling on them to avoid unnecessary work and travel, to refrain from using too much power at certain times of the day, and urging them to remain vigilant of wildfires.
If you like this story, share it with a friend!
You can share this story on social media: