Ten years on from UK race riots that left five dead, are we facing new outbreaks of civil unrest, this time over Covid clampdowns?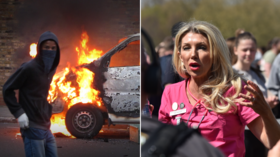 The same sort of grievances that saw the police shooting of a low-level London criminal become the touchpaper for five days of violence and chaos across Britain exist today with the growing anti-vaxxer 'freedom' movement. 
When it comes to the English riots of 2011, I've got some skin in the game. I grew up a stone's throw from Tottenham, North London, in the neighbouring East End hamlet of Walthamstow. Ten years ago to the day, the police killing of an armed suspect, Mark Duggan, became the catalyst for bloody riots that started in Tottenham but over the course of the next five days spread across England, resulting in five deaths, thousands of arrests, hundreds of criminal convictions, and as much as £300 million in property damage.
I know Tottenham in all its diversity, complexity and volatility. I know its local MP, David Lammy, as a man who, like the constituency he's served for the past 21 years, is often defamed by the events of August 2011. Given Tottenham's synonymity, not just with 2011 civil unrest but the riots and murder of PC Keith Blakelock a generation earlier in 1985, the area has gained a negative reputation as a hotbed of urban insurrection. But Tottenham's defamation is also a slur and smear on black people as a whole, given its spiritual place in the history of England's post-war, post-Windrush evolution of its now two million-strong black community.
This affinity with Tottenham, which is not without bias, nostalgia or even romance (I've been a long-suffering Spurs supporter for over 40 years), brought me to tears a decade ago when I saw it explode in a tumult of fire and fury sparked by the Duggan killing. The causes and factors behind the riots are myriad. But one blunt summary is that it was a perfect storm of long-held local grievances, misinformation, disinformation, and a minority of violent insurgents who went looking for a fight – and got it – courtesy of a state blindsided by its lack of social awareness.
On the ground, the police and locals became unwitting combatants in a proxy war that has been going on for decades, and I suspect is about to rear its ugly head once again, but this time thanks to very different socially climatic conditions.
Also on rt.com
Mayhem on streets of Berlin: Anti-lockdown protests turn into violent scuffles with police in Germany, 600 arrested (VIDEOS)
What caught so many people off-guard was how the disturbances in Tottenham so quickly triggered copycat social unrest in Birmingham, Bristol, Coventry, Derby, Leicester, Liverpool, Manchester, Nottingham, West Bromwich and Wolverhampton. Unlike the killing of George Floyd last year, which inspired not just widespread protests in America, but around the world, Duggan's killing was neither caught on camera nor disseminated by a global network of billions of social media users, quite simply because social media was nowhere near as pervasive in 2011 as it is now.
Yes, part of this viral explosion of violence – which Lammy called "an explosion of hedonism and nihilism" in his post-riot analysis, Out of the Ashes – was driven by encrypted Blackberry messaging. In the book, Lammy quotes a Blackberry message sent by a rioter to one of his young constituents, which in the pidgin text-speak of 21st century Britain, illustrated the flashmob mentality of many of the rioters: "What ever ends [area] your from put your ballys [balaclavas] on link up and cause havic, just rob everything. Police can't stop it."
This was freedom "without any sense of duty" Lammy argued. "Our society needs to reconnect with other important, informal regulators of behaviour," he wrote. "Notions of decency towards others. Pride. Shame. Admiration. Scorn."
While Lammy's clarion call was aimed at Blackberry, it now looks like a crude forerunner to the WhatsApp, Telegram, Signal, Viber and countless other messaging apps resident today on our mobile phones. User-generated texts, and indeed images and videos disseminated in the mainstream news media, helped to inspire yobs around the country to take up arms. In Tottenham and beyond, it was as though legions of Manchurian candidates were just waiting for the beep, the flashing blue light, the rock-throwing, car ablaze or bloodied copper to be awoken and thrust into violent action.
Also on rt.com
As protests grow against health passes, are elites imposing the measures making the same disdainful mistakes Remain did in 2016?
All of this begs the question: if the shooting of Mark Duggan, a low level criminal with little rep beyond the N17 postcode, could become the touchpaper for a working week of violence, chaos and mayhem, as the country enters the next phase of the 18-month Covid pandemic, where are the riots over the 130,000 Covid-related deaths; the thousands of bankruptcies; the tens of thousands of lost jobs and livelihoods; and the millions of now poor, frightened and confused citizens rightly concerned at the UK's mounting £300 billion Covid-related debt?
Such a question isn't a specious attempt at inciting violence. Far from it. Part of my rhetoric commends the English or British public's stoicism. Riots emanating from the black community are few and far between, yet can be analysed and understood by looking at the relationship between economics, culture and state intervention, regardless of political persuasion.
In much the same way, if mass grumblings on social media are to be believed, along with the s**t-stirring of a growing coalition of anti-vaxxers, disgruntled pro- and anti-Brexiters, red wall reactionaries and race-baiters such as Katie Hopkins and Tommy Robinson, and the relentless propagandising of Tory backbenchers and unrestrained media mouthpieces and Covid-sceptics such as Nigel Farage, Laurence Fox, Toby Young and Neil Oliver, predicting large scale serious public disorder isn't so much a question of if, but when, the UK will see a violent rebellion over the mandates, restrictions and health passports being instituted an increasingly unpopular Boris Johnson and his genuflecting cabinet.
We've seen signs of the "white riot" waiting to happen ever since Brexit's sore winners realised that the "taking back control" applied only to Johnson and his cronies within the Tory party, not to the valiant "52%" who voted for it.
Also on rt.com
Freedom Rally: Thousands protest Covid passports in London… as anti-vax speaker threatens doctors with 'Nuremberg trials'
Just before the pandemic struck, in the autumn of 2019, far-right, hooligan-based groups such as the Democratic Football Lads Alliance (DFLA), heeding the call of Johnson's nationalistic rhetoric, threatened to riot after parliament moved to block a no-deal Brexit via a bill approved by the House of Lords. The DFLA called MPs behind the bill "traitors" and "scum" before descending on Westminster and clashing with counter-demonstrators and the police. Demos also took place in Birmingham and Manchester.
Come the summer of 2020, and now galvanised by its opposition to Black Lives Matter, the DFLA and other far-right groups, such as Britain First, the English Defence League and the lunatic fringes of Farage's Brexit Party, were amping each other up in social media groups and platforms with rallying cries for Britons to "take to the streets", "burn the country" and engage in a "biblical battle". Predictably, violence followed with Whitehall and other areas of the country with statues commemorating British "heroes" becoming flashpoints for confrontations with right-wing yobs and the police.
A year on, these rabbles have now coalesced around a new bogie man: the UK government's vaccine rollout. Anti-vaxxers and their tinpot, tinfoil conspiracy theoriesm sit neatly with the hardcore Brexit, anti-BLM, anti-immigration, anti-state, anti-woke, culture war, freedom-of-speech mob as it fits neatly with the overall existential paranoia and extinction anxiety the loony right has been promoting for years. This is not just phenomenon in the UK, but in the US, where it reached its apex on January 6 this year when thousands of disgruntled reactionaries descended on the US Capitol in Washington, resulting in the deaths of five people and the subsequent suicides of four police officers who were caught up in the rioting.
While the riots of 2011 demonstrate how serious public disorder can stem from leaderless, bottom up anarchic spontaneity, the Capitol riots and the mini-flare ups in the UK of late show how violent insurrection can also be inspired from the top down. If an exiting president or a beleaguered prime minister can crank up a mob, through mainstream channels, then anything is possible.
Also on rt.com
FIERCE CLASHES between protesters & police in Paris as tens of thousands rally against Covid certs, vax mandates in France (VIDEO)
Just the other week, thousands of anti-lockdown and anti-vaccine protesters gathered at Trafalgar Square in central London for a "Worldwide rally for freedom" – just five days after restrictions were lifted in England. Conspiracy theorists were aplenty, including David Icke, Gillian McKeith and Piers Corbyn, the brother of former Labour leader Jeremy Corbyn. The event also attracted far-right commentator Katie Hopkins, freshly deported from Australia after bragging about her intention to break quarantine rules. These figures may seem to be on the bonkers borders of public discourse, but to millions of credulous Brits who have seen these characters come up with the tactic support of the MSM, they are legitimate voices, indeed, leaders.
This rogues' gallery of "freedom fighters", much like those who descended on the peaceful gathering of 300 people who marched from Tottenham's Broadwater Farm estate to the local police station, are looking for trouble. And having allowed far right EDL types into their midst, along with anti-vax poster girl and "movement" leader Kate Shemirani, who was struck off by the Nursing and Midwifery Council last month for spreading Covid misinformation, they might just get it.
Urging her thousands of acolytes to inform on clinicians, at the Trafalgar Square rally Shemirani cried, "Get their names. Email them to me. With a group of lawyers, we are collecting all that. At the Nuremberg Trials the doctors and nurses stood trial and they hung. If you are a doctor or a nurse, now is the time to get off that bus... and stand with us the people."
Also on rt.com
Prominent anti-vax activist Piers Corbyn takes MONOPOLY MONEY from fake vaccine investors in YouTube prank
This is fighting talk. This is riot talk. All this mob needs is a spark, a flame. They have the means of communication. They have the loudmouths and figureheads. They have the grievances and they certainly have the numbers. All they need is an excuse.
Ten years ago, Tottenham had the same combustible mix – and the stakes were lower. Given that many of the same rebels at the heart of the anti-vax movement also have a "thing" about the BLM movement and the resurgent global black civil rights movement, they have a point to prove to get their wobbling heads above the culture war's ramparts.
Let's just hope they keep their fight toothless because if they do get brave and find a martyr, I predict a riot sooner rather than later. And it may well be the one that sends the government's red wall tumbling down.
The statements, views and opinions expressed in this column are solely those of the author and do not necessarily represent those of RT.
You can share this story on social media: