Taliban claims responsibility for deadly attack on Afghan defense minister's residence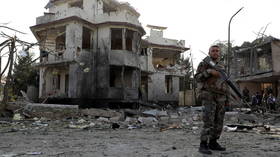 The Taliban says it was behind an attack on the residence of Afghanistan's acting defense minister late Tuesday, in which at least eight people were killed and many others wounded.
The minister's residence was struck while an important meeting was underway inside, the group said in a statement released by its spokesman, Zabihullah Mujahid.
The attack was just the beginning of retaliatory operations targeting key Afghan officials overseeing the fight again the Taliban across the country, the group warned.
On Tuesday, the militants attacked the residence of the acting defense minister, Bismillah Khan Mohammadi, located close to Kabul's heavily fortified Green Zone, which hosts foreign diplomats.
A car bomb and subsequent exchange of fire between the gunmen and security forces left at least eight people dead and around 20 wounded. Three of the attackers were shot dead, while Mohammadi and his family escaped unharmed. One of the minister's guards was among those killed, with another injured, according to security officials.
Also on rt.com
Explosions shake Kabul as Afghanistan defense minister's residence comes under attack
Shortly after the attack, a large crowd took to the streets of Kabul. Participants of the overnight march carried national flags and chanted slogans, decrying the actions of the Taliban and supporting the country's security forces in their battle against terrorism.
The US also pinned the blame on the Taliban before the group officially claimed responsibility. State Department spokesman Ned Price said the attack bore the hallmarks of the group and warned that the Taliban "will be an international pariah" if the Afghan peace talks are derailed. He also expressing concern that the country could spiral into a civil war.
The Taliban has intensified its activities across Afghanistan after the US began withdrawing troops from the country earlier this year. Explosions and attacks targeting security forces and government officials became more frequent in Kabul and other cities, while a major offensive by the militants saw them capturing many rural districts.
Also on rt.com
Majority of Taliban tired of fighting & ready for peaceful Afghanistan now US troops have left country, top Russian official says
The Americans, who have been in Afghanistan for two decades, are expected to complete the pullout by August 31, in accordance with the deadline set by President Joe Biden.
Like this story? Share it with a friend!
You can share this story on social media: